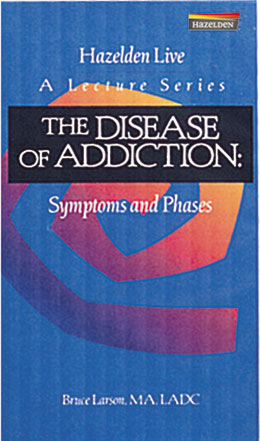 Symptoms and Phases The Disease of Addiction DVD
Hazelden Live - A Lecture Series; Part of A.N.D.
DVD, 30 min., cc.
Item:
2580
Author:
Bruce Larson, M.A., L.A.D.C.
Show Less >>
Symptoms and Phases: The Disease of Addiction defines and describes addiction as a disease to help you understand the primary, chronic, genetic, progressive, and potentially fatal aspects of the illness. The three phases of addiction and symptoms for each phase provide a basic understanding of addiction.
This video is also used as part of Hazelden's A New Direction. A New Direction is a comprehensive cognitive-behavioral therapy treatment program that trains chemically dependent offenders to challenge their thinking in order to change thier criminal and addictive behavior patterns.

Also available as an on demand video.

Item:
2580
ISBN-13:
9781592854578
Publisher:
Hazelden
Published Year:
1999
Related Items
People who bought this also bought