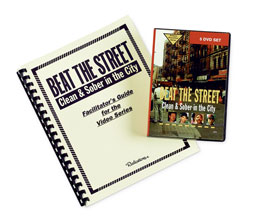 Beat the Street DVD Series
Clean & Sober in the City
193 min., includes Facilitator's Guide
Item:
4327
Other Publisher
Show Less >>
Beat the Street
is a cutting-edge, five-part video series that reveals effective relapse prevention strategies through powerful presentations by recovering inner-city addicts.
Uses input from hundreds of streetwise recovering addicts and a panel of national experts.
Enhanced by special effects, graphics, and a musical score adults can relate to.
This collection includes a facilitator's guide and the following videos:
Part 1: Street Smarts: Learning to Avoid Relapse Part 2: Back on the Block: Early Recovery Part 3: Recovering Relationships: Families, Partners, and Kids Part 4: Catchin' Feelings: New Ways to Cope with Emotions Part 5: Making It Happen: Work, Money, School, and Good Times
Item:
4327
Publisher:
Reelizations Media
Published Year:
1996
Related Items
People who bought this also bought