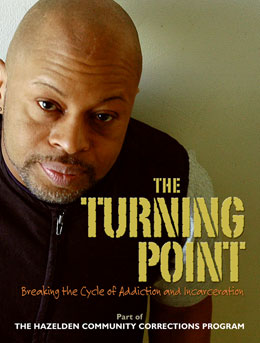 The Turning Point DVD
Breaking the Cycle of Addiction and Incarceration
DVD, 45 min.
Item:
7919
Author:
Vincent Hayden
Show Less >>
This compelling video was developed for male clients who are dealing with alcohol or other drug addiction. It includes interviews with African American men in different stages of recovery and reintegration, along with straight talk from counselors, community activists, a neighborhood pastor, and a drug court judge. All echo the same message: in order to change, these men must give up not only alcohol and other drugs but also their unhealthy lifestyles.
Viewers will learn strategies to create a healthy environment, find positive support, overcome shame and guilt, rebuild self-esteem, identify triggers, avoid relapse, and ensure that core beliefs and values align with positive goals. While this video features African American men in an urban environment, the information shown applies to all men in recovery. This video can be used alone or as part of the Hazelden Community Corrections Program.

Also available as an on demand video.
Item:
7919
ISBN-13:
9781592854936
Publisher:
Hazelden
Published Year:
2009
Related Items
People who bought this also bought