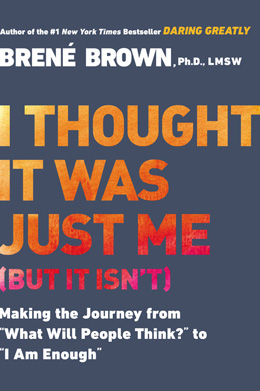 I Thought It Was Just Me But It Isn't
Making the Journey from 'What Will People Think?' to 'I Am Enough'
Softcover, 336 pp.
Item:
2555
Author:
Brené Brown, Ph.D., L.M.S.W.
Other Publisher
Show Less >>
In this groundbreaking book,
I thought It Was Just Me (but it isn't)
, Dr. Brené Brown helps us take shame that permeates our lives and reclaim the gifts of imperfection: The courage to be real, the compassion to love ourselves and others, and the connection that gives true purpose and meaning in life.
Item:
2555
ISBN-13:
9781592403356
Publisher:
Penguin Gotham Books
Published Year:
2007
Related Items
People who bought this also bought