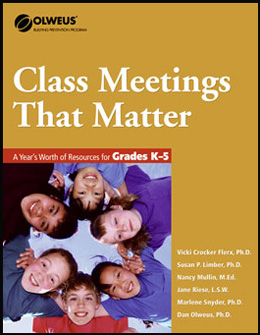 Class Meetings That Matter K-5
A Year's Worth of Resources for Grades K-5
Manual, 368 pp
Item:
4727
Author:
Dan Olweus, Ph.D.
Author:
Susan P. Limber, Ph.D.
Author:
Marlene Snyder, Ph.D.
Author:
Nancy Mullin, M.Ed.
Author:
Jane Riese, L.S.W.
Author:
Vicki Crocker Flerx, Ph.D
Show Less >>
Schools across the country are using the world-renowned
Olweus Bullying Prevention Program (OBPP)
to reduce bullying and create a safe and caring school environment. Class meetings are a core part of this award-winning program--and
Class Meetings That Matter
is an ideal component for any school using
OBPP. Developed by the authors of the Olweus Bullying Prevention Program, this easy-to-use manual provides almost an entire year 's worth of engaging, age-appropriate, and grade-specific ideas and topics to conduct meaningful class meetings.
Topic categories include:
building a positive classroom climate
identifying feelings
communication
hot spots
peer relationships
respecting differences and promoting acceptance
serving the community/reaching outward
using current events
The Olweus Bullying Prevention Program or OBPP for short, is the most researched and probably best-known bullying prevention program available today.
Click here to download an Olweus Bullying Prevention Program sample cost breakdown. These figures show what an average sized school can expect to pay to implement the program. Please note, every school is unique. These figures are for budgetary purposes and should not be considered final. Please contact a sales representative at 800-328-9000 for a custom quote.
Item:
4727
ISBN-13:
9781592857227
Publisher:
Hazelden
Published Year:
2009
Related Items
People who bought this also bought