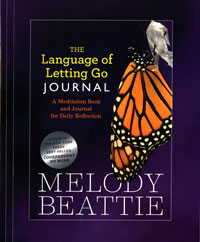 The Language of Letting Go Journal


Softcover, 400 pages
Author: Melody Beattie
Item: 1999
Publisher: Hazelden
Published Year: 2003

List Price:

$18.95 Each


Online Price:

$12.95 Each




Fear, shame, anger, self-doubt. Helping people "let go" of self-destructive thoughts, emotions, and behaviors has been the life work of acclaimed author Melody Beattie. For more than a decade, millions of readers have turned to Beattie's classic meditation book, The Language of Letting Go, as a wellspring for daily reflection, affirmation, and change. Now the journal edition using abridged text from the original best-seller, allows readers to record their thoughts, fears, and accomplishments.

Key features and benefits
Beattie's work is known and trusted among self-help readers
journal format invites readers to personalize meditations
meditation themes explore common relationship issues
a thoughtful gift for friends or a great gift for yourself
About the author-
Melody Beattie is the author of numerous books about personal growth and relationships, drawing on the wisdom of Twelve Step healing, Christianity, and Eastern religions. With the publication of Codependent No More in 1986, Melody became a major voice in self-help literature and endeared herself to millions of readers striving for healthier relationships. She lives in Malibu, California.
Visit the Melody Beattie page for more information about Beattie books and mobile apps.
Click here to read a one-to-one conversation with the beloved author of Codependent No More, The Language of Letting Go book and journal, Playing It by Heart, and 52 Weeks of Conscious Contact.