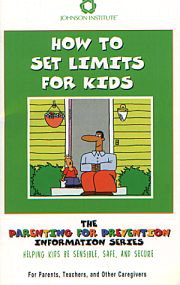 How To Set Limits For Kids Booklet
Parenting for Prevention
Booklet, 24 pp.
Item:
3144
Show Less >>
The skills are simple, easy to learn, and can be used by married or single parents, grandparents, step-parents, foster parents, teachers, and other caregivers.
You'll learn:
-How to set clear limits.

-How to set reasonable limits according to age, trust level,
and basic needs.

-Why limits should be set in advance and checked for
compliance.

-How to respond when your child tests the limits.
Item:
3144
ISBN-13:
9781562461355
Publisher:
Hazelden / Johnson Institute
Published Year:
1997
Related Items
People who bought this also bought