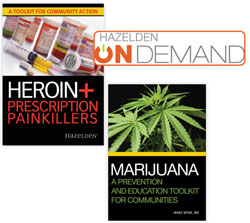 Opioids and Marijuana School Resources for Prevention and Education (3 Year)
Three Year Electronic Subscription
Item:
SE9017
Show Less >>

"Subscribe Today!
Contact your
Hazelden Sales Representative
to order
or for more information!"
Cost is only $99.99 per school for a 3 year subscription.
Staying current on today's tending drugs can be difficult. Here's an easy solution to help prevent students from using drugs with an Opioids and Marijuana School Resources for Prevention and Education Digital Subscription. Get the lesson plans, fact sheets and communication tools your school or district needs at the click of a mouse. The Role of Schools in Intervention is a one-day training for schools impacted by the opioid epidemic or marijuana legalization that also includes how to use the resources and tools in this subscription. Resources included in this subscription are:
Current facts and statistics with Opioid Basics and Marijuana Basics
Separate Opioid and Marijuana Guides, with lesson plans for teachers
Separate Opioid and Marijuana Guides for communicating with parents
Separate Opioid and Marijuana Presentations written specifically for a school to share with its adult community members.
Separate Opioid and Marijuana Videos help establish a baseline of knowledge and feature addiction experts as well as personal stories from teens.
Resources to help guide schools who wish to publicize their campaigns against Opioid or Marijuana use.
Item:
SE9017
Publisher:
Hazelden
Published Year:
2017
People who bought this also bought