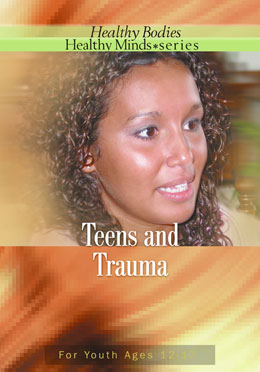 Teens and Trauma DVD
DVD, 17 min., cc.
Item:
4922
Price:
$75.00 Each
Online Price:
$29.99 Each
Show Less >>
From living through their parents' divorce, to grieving the death of a loved one, to witnessing or being victimized by violence, an estimated 40% of teens today have experienced a significant traumatic event in their lives. A percentage of those young people go on to develop post-traumatic stress disorder (PTSD), a condition that puts them at greater risk of developing substance abuse disorders. This video addresses the spectrum of traumatic events teens may experience, discusses healthy and unhealthy reactions to such stress, and explains the importance of dealing with life's challenges without resorting to self-destructive behaviors such as drinking or drugging. Includes facilitator's guide and reproducible parent newsletter.

Also available as an
on demand video.
---

This video is also available in a convenient,
online subscription.
Free 2-week trials are available for all of our Treatment OnDemand subscriptions.
Sign up now!
Item:
4922
ISBN-13:
9781592851591
Publisher:
Hazelden
Published Year:
2004
Related Items
People who bought this also bought