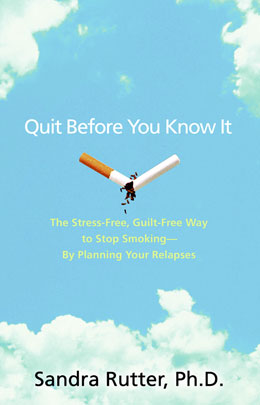 Quit Before You Know It
The Stress-Free, Guilt-Free Way to Stop Smoking--By Planning Your Relapses
Softcover, 200 pp.
Item:
7372
Author:
Sandra Rutter, Ph.D.
Price:
$12.95 Each
Online Price:
$4.99 Each
Show Less >>
Learn about a stress-free, guilt-free way to stop smoking - for good. An ex-smoker and psychologist, Sandra Rutter walks you through her innovative method in
Quit Before You Know It
, providing you with step-by-step instructions and strategies that you can use to help you kick the habit.
Also available in a pocket-sized edition (#7369)

Item:
7372
ISBN-13:
9781592853151
Publisher:
Hazelden
Published Year:
2006
Related Items
Available Formats & Editions
Format
Language
Price
Online Price
eBook
English
People who bought this also bought