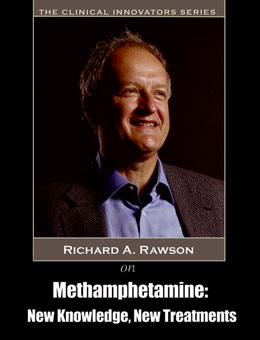 Methamphetamine New Knowledge New Treatments Curriculum with DVD
The Clinical Innovators Series
65 min. DVD Clinicians Manual and CE test (15 CE hrs.)
Item:
2625
Author:
Richard Rawson, Ph.D.
Learn solid, proven information about meth addiction and treatment from researcher Richard Rawson of UCLA.
Read More >>
Product Details
Read Reviews
Write a Review
Related Items
People who bought this also bought
Product Details
Finding the time and funds to attend conferences or to earn continuing education contact hours isn't always possible. The Hazelden Clinical Innovators Series makes it easier for you.
With all the information available about meth addiction and treatment, separating myths from reality can be difficult. Where do you start? With solid, believable, proven information from an industry leader. Richard Rawson of UCLA has conducted research and developed treatment systems for substance abuse for over 20 years. He examines in detail the latest research on meth use and brain imaging. He also discusses promising treatment strategies, resources for treatment providers, and the prospects of effective medications. You'll learn:
Why an addict's cravings for meth are stronger than cravings for basic survival needs such as food
The reasons behind the "meth is untreatable" perception
Why contingency management--positive reinforcement for positive behavior - can help sustain abstinence
Which treatment protocols work-and which don't
Includes a video workshop on DVD, a clinician's manual written by Rawson, and a test that allows you to earn continuing education contact hours.

With so much misinformation circulating about meth, reliable training is critical. This is why NAADAC and CAADAC have approved the posttest for Richard Rawson's Methamphetamine: New Knowledge, New Treatments for 15 CE hours.

*Hazelden is an approved continuing education provider by NAADAC (program #0003810), CAADAC (program #OS-04-651-1012), and IAODAPCA (program #8737).

"As we study the brain we are getting more and more understanding of what this clinical phenomenon is that meth users are dealing with."
--Richard A. Rawson, Ph.D.


Item: 2625
Publisher: Hazelden
Published Year: 2006