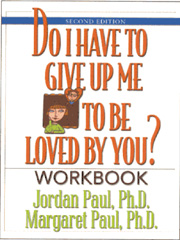 Do I Have to Give Up Me to Be Loved by You Workbook Second Edition
Workbook - Second Edition
Workbook, 224 pp.
Item:
1975
Author:
Jordan Paul, Ph.D.
Author:
Margaret Paul, Ph.D.
Price:
$17.95 Each
Online Price:
$16.15 Each
Show Less >>
A companion to the best-selling book of the same title, this popular, newly revised workbook helps couples create a deeply satisfying, more intimate relationship. Focusing on the ever-present dynamic of conflict-and the process of working through it-the authors guide couples in getting to the root of recurring disagreements and destructive behaviors.
Self-assessment exercises and couple activities help readers recognize unloving responses, move past fear, identify self-protective and negative beliefs, break down power struggles, and reach out in forgiveness. The principles outlined in this powerful, easy-to-use workbook have helped thousands of couples and families create more loving relationships.
Key features and benefits
a proven best-seller
highly recommended by marriage therapists
includes exercises for couples to explore core beliefs and values
Item:
1975
ISBN-13:
9781568387970
Publisher:
Hazelden
Published Year:
2002
Related Items
Available Formats & Editions
Format
Language
Price
Online Price
eBook
English
People who bought this also bought