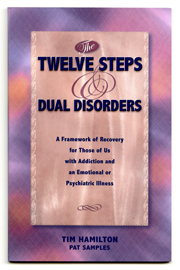 Twelve Steps and Dual Disorders Collection
A Framework of Recovery for Those of Us with Addiction and an Emotional or Psychiatric Illness.
Includes 1 book, 1 DVD, and 15 workbooks.
Item:
0374
Author:
Tim Hamilton
Author:
Pat Samples
Show Less >>
Twelve Steps and Dual Disorders
is a gentle, spiritual, and supportive approach to strengthen recovery. The book discusses each of the Twelve Steps of Dual Recovery Anonymous. Clients will use the workbook to deepen their understanding of their dual diagnosis and bolster their recovery work. The DVD features testimonials from individuals in recovery from addiction and an emotional or psychiatric illness. This video helps clients see how the Twelve Steps form a solid foundation for their recovery.
Item:
0374
ISBN-13:
9781616492182
Publisher:
Hazelden
Published Year:
2002
Related Items
Items Included
People who bought this also bought