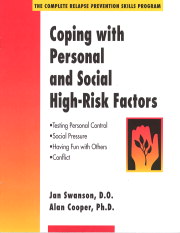 Coping with Personal and Social High Risk Factors Workbook
Workbook
Item:
1557
Author:
Alan Cooper, Ph.D.
Author:
Jan Swanson, D.O.
A core component of Hazelden's Complete Relapse Prevention Program.
Read More >>
List Price:
$3.50 Each
Online Price:
$0.95 Each
Product Details
Read Reviews
Write a Review
People who bought this also bought

Product Details


Can you recognize the warning signs of relapse? Hazelden's Complete Relapse Prevention Skills Program uses pamphlets, workbooks, videos and other visual aids to increase accessibility and retention.

The self-directed learning program includes:
Pamphlets written in clear, easy-to-understand language
Workbooks that allow the reader to personalize the information and make plans
Videos provide compelling demonstrations that reinforce key concepts and model behavior change.

For use within a clinical setting, Hazelden offers volume savings on package purchases. Call 1-800-328-9000 for more information.

Item: 1557
Publisher: Hazelden
Published Year: 1994