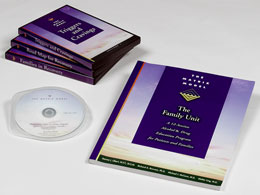 The Family Unit with DVD Matrix
A 12-session Alcohol and Drug Education Program for Families
Manual with CD and 3 DVD's
Item:
0163
Author:
Matrix Institute
Author:
Jeanne L. Obert, M.F.T., M.S.M
Author:
Richard Rawson, Ph.D.
Author:
Micheal J McCann, M.A.
Author:
Walter Ling, M.D.
The
Matrix Model
is an evidence-based intensive outpatienet treatment program with over 20 years of research and development and is one of the few treatment programs endorsed by NIDA. The Family Unit includes facilitator's material, lecture notes and handouts, a CD, and three DVDs.
Read More >>
Product Details
Read Reviews
Write a Review
Related Items
People who bought this also bought

Product Details





The family education component of The Matrix Model is also available individually as The Family Unit. It helps families understand the process of addiction and recovery. Includes facilitator material, lecture notes and handouts (which are also on CD), and three DVDs: Road Map for Recovery, Triggers and Cravings, and Families in Recovery.

The Matrix Model is an evidence-based outpatient treatment program with over 20 years of research and development. It was recently tested in the CSAT Methamphetamine Project and is one of the few treatment programs to be endorsed by NIDA.* The comprehensive, multiformat program covers six key clinical areas: individual/conjoint therapy, early recovery, relapse prevention, family education, social support, and urine testing.

For a complete overview on What it is, Why it works, How it helps clients, and How it helps you, visit The Matrix: An Evidence-Based Intensive Outpatient Treatment Program for Alcohol and Drugs.

Hazelden offers training on all of our evidence-based programs to ensure that you achieve the outcomes you expect. Click here to find out more.

*Principles of Drug Addiction Treatment, A Research-Based Guide, 1999. Meth, meth, methamphetamine addicts, meth treatment, meth addiction


Item: 0163
Publisher: Hazelden
Published Year: 2005