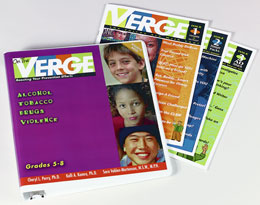 On the Verge Curriculum
Boosting Your Prevention Efforts
Facilitator's guide, 120 magazines, 120 postcards, CD.
Item:
2067
Author:
Cheryl L. Perry, Ph.D.
Author:
Kelli Komro, Ph.D.
Author:
Sara Veblen-Mortenson, M.S.W.,M.P.H.
With an emphasis on peer, parent, and community involvement, the four-session
On the Verge
curriculum, focuses on attitudes and everyday pressures young teens face to make a positive fundamental change in how they view risky behaviors like smoking, drinking, drugs, and violence.
Read More >>
List Price:
$245.00 Each
Online Price:
$49.00 Each
Product Details
Read Reviews
Write a Review
Related Items
Items Included
People who bought this also bought

Product Details


Research shows that it isn't enough to "just say no" to prevent risky behaviors among young teens. What they really need is a fundamental change in their view of what's considered "cool," "normal," or "grown-up." On the Verge provides the opportunity for that change. With an emphasis on peer, parent, and community involvement, On the Verge is effective as a stand-alone prevention initiative or as a supplement to maximize outcomes of existing prevention programs. On the Verge focuses on attitudes and everyday pressures young teens face with regard to risky behaviors : smoking, drinking, using other drugs, and using violence. Peer-led activities plus engaging articles and exercises in four VERGE magazines get young people thinking about four critical areas of influuience in their lives:

· friendship and peer pressure
· group influences and expectations
· advertising and the media
· role models and goals

Designed to be delivered in four sessions, the complete curriculum includes:
1 facilitator guide w/peer leader guide and reproducible activity sheets
30 of each of the four magazines (total of 120 magazines)
30 of each of the four parent postcards (total of 120 postcards)
CD with audio messages that provide an intro to each of the sessions.

VERGE magazines and parent postcards are sold separately.

Scope & Sequence Document
This document is available as a free download for your use.

This document provides more background information on the program's research, Scope & Sequence, and related National Academic Standards.

This document is in Adobe Acrobat (.pdf) format and requires Adobe Acrobat to be installed on your computer. If you do not have Adobe Acrobat on your computer, Click Here for download and installation instructions.

Additional Resources to assist you.
To help you meet the growing needs of your diverse student population and their families, Hazelden has created free, downloadable versions of many of our key resources. Be sure to visit The Spanish Prevention Download Center for these resources.


Item: 2067
Publisher: Hazelden
Published Year: 2003