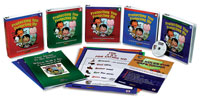 Click image to zoom
MADD Protecting You Protecting Me Grade 1-5


An Alcohol Prevention Curriculum
5 Curricula--one for each grade level
Item: 4390
Publisher: Hazelden
Published Year: 2006

List Price:

$525.00 Each





Protecting You/Protecting Me (PYPM) is the only elementary-school-level curriculum available that incorporates the latest research on children's brains and developmental risks associated with exposure to alcohol before age 21. Created by Mothers Against Drunk DrivingŪ (MADD), PY/PM teaches students in grades 1 - 5 how the brain works and how the brain is affected by alcohol. Students learn safety skills such as how to refuse a ride from an adult driver who is not alcohol-free (such as an adult partygoer driving a babysitter home) and how to reduce the risks when there is no other option (such as when riding with parents/guardians who drink and drive).

Curriculum includes eight topics: our brain, growth and development, health and safety, rules and laws, friends, choices and decisions, media awareness, and communication (especially with adults). Lessons are taught sequentially with topics repeated for each grade level, increasing in sophistication that parallels cognitive and social development. The lessons are designed to be incorporated into the core school curriculum in health, language arts, social studies, math, and fine arts. Parental involvement activities are also included.

Program materials for each grade level include a binder with implementation manual for teachers, a fidelity checklist, a scope and sequence document, and a parent letter in English and Spanish.

This collection includes program materials for grades 1-5, program information CD, plus online training for grades 1-5.

Hazelden publishes the adult-led version of Protecting You/Protecting Me. The peer-led version is available through MADD.