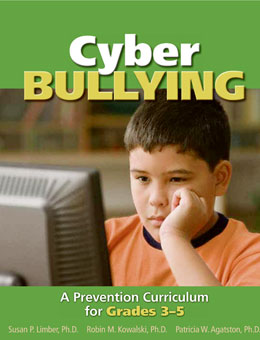 Cyber Bullying A Prevention Curriculum for Grades 3-5


Author: Susan P. Limber, Ph.D.
Author: Robin M. Kowalski, Ph.D.
Author: Patricia W. Agatston, Ph.D.
Item: 3815
Publisher: Hazelden
Published Year: 2009

List Price:

$109.00 Each




"Research indicates that incidents of cyber bullying begin when young people more actively use communication technologies--starting around third grade. This new curriculum is perfectly designed to help elementary students get started in the online world in a manner that will promote civility, rather than cruelty."
--Nancy Willard, M.S., J.D., author of Cyberbullying and Cyberthreats: Responding to the Challenge of Online Social Aggression, Threats, and Distress and executive director of the Center for Safe and Responsible Internet Use

What is cyber bullying? Cyber bullying is bullying through emails or instant messages, in a chat room, on a Web site, or through digital messages or images sent to a cell phone.

Cyber Bullying: A Prevention Curriculum for Grades 3-5 raises awareness of what cyber bullying is and why it is so harmful, equips students with the skills to treat people respectfully when using cyber technologies, gives students information about how to get help if they or others are being cyber bullied, and helps parents know what to do to keep their children safe from cyber bullying.

Through stories with engaging characters and real-life application, this curriculum
educates students, teachers, and parents
empowers targeted students and bystanders
supports targeted students and their families
This manual is the core of the curriculum. It provides background information and step-by-step instructions on how to implement the curriculum. The accompanying CD-ROM includes reproducible classroom materials, posters, sample policies, teacher training resources, and more.

Developed by the authors of Cyber Bullying: A Prevention Curriculum for Grades 6 - 12, this curriculum is an essential resource in the movement to prevent and eliminate cyber bullying.

Click here to download an Olweus Bullying Prevention Program sample cost breakdown. These figures show what an average sized school can expect to pay to implement the program. Please note, every school is unique. These figures are for budgetary purposes and should not be considered final. Please contact a sales representative at 800-328-9000 for a custom quote.

Read the introduction and more of: Cyber Bullying A Prevention Curriculum for Grades 3-5. This file is in PDF format.