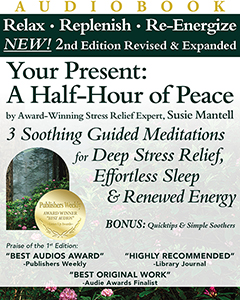 Your Present A Half-Hour of Peace CD


A Guided Imagery Meditation for Physical and Spiritual Wellness
Audio CD
Item: 7256
Publisher: Relax Intuit LLC
Published Year: 2003

List Price:

$14.95 Each


Online Price:

$13.45 Each



Soothe away layer-after-layer of stress and sleeplessness, anxiety or depression. With a voice described as "liquid," nationally acclaimed stress-relief expert Susie Mantell has created a uniquely personal relaxation experience. Like an easy chair, the exquisitely comforting narration gently supports a weary spirit, taking the worry out of sleepless nights. An oasis from a stressful schedule, or prelude to deep, restful sleep, this award-winning guided imagery meditation gently releases tension and cravings, grief and bereavement, insomnia and pain. The warm narration instantly carries listeners into soft, effortless serenity -- again and again. Clinically approved to relieve symptoms associated with addiction and eating disorder recovery, obsession, health-related, work-related, chronic and post-traumatic stress, "Your Present: A Half-Hour of Peace" is found in distinguished medical centers and rehabs, Fortune 500 companies, world-class spas. In a world that often seems to spin too fast, drift into the quiet place where worries dissipate, where healing begins. Slow down, sit back...and just let go.
[For beginners and seasoned meditators alike. Elegantly packaged with gold award seal.]
Award & Honors:
"Best Audios" –Publishers Weekly Award
"As Good As It Gets" Issue –Town Country
"Superb" –The American Pain Society
"Bestseller" –New Leaf
"Surrounds nerve endings like salve." –Rocky Mountain News
"Highly Recommended" –Library Journal
"Recommended--Well-Done" –Richard Ottenstein, Ph.D., Trauma Expert
"Audie Awards Finalist" -Best Original Work
"Terrific corporate gift!" -Remington, Ann T. Buivid, Pres.
"If you can buy only one CD, this is it!" –Canyon Ranch Living Essentials
"Highly Recommended" –Navy-Marine Corps Relief Society
About Author/Narrator Susie Mantell
Customizing stress-reduction programs for Fortune 500 companies, distinguished medical centers and spas, stress-relief expert Susie Mantell's techniques have appeared on ABC, NBC, CBS TV, in The Los Angeles Times, leading magazines and syndicated media. The Coca-Cola Company appointed Mantell to their 4-person wellness team. She trains corporate executives, ER and oncology staff, those recovering from addiction in many forms, expert witnesses, inner-city AIDS patients...and everyday folks who could just really use a nap.
Fun Facts: Susie Mantell is also an award-winning pop songwriter whose work has been heard Off-Broadway, at Carnegie Hall's Weill Recital Hall, on TV/ film and the pop charts in Hong Kong.