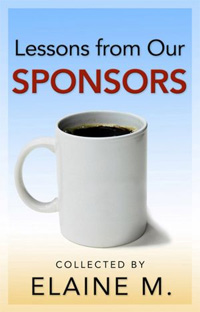 eBook Lessons from Our Sponsors
eBook
Item:
EB4692
Author:
Elaine M
Show Less >>
Buy your Kindle eBook from Amazon
Buy your kobo eBook
Buy your Barnes and Noble eBooks
Buy your iBook at iTunes
Seasoned sponsors from various Twelve Step programs offer wisdom and stories to support you in recovery.
Anyone working the Twelve Steps knows the importance of a good sponsor. What if you could have the collective wisdom of numerous sponsors of all ages, genders, and cultural and social backgrounds available to you at any time on critical recovery issues? This book collects 100 short stories on issues such as working the Steps, dry drunks, clean and sober relationships, cravings, and more, told by those who learned how to cope with each challenge by using a lesson from their own sponsor. The lessons are universal, but come from the philosophies of AA, NA, OA, SAA, and more.

A Hazelden Mobile Application is available for this Title.
Item:
EB4692
ISBN-13:
9781616492632
Publisher:
Hazelden
Published Year:
2012