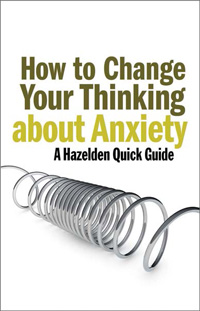 eBook How to Change Your Thinking About Anxiety
Hazelden Quick Guides
Item:
EB4805
Show Less >>
Buy your Kindle eBook from Amazon
Buy your kobo eBook
Buy your iBook at Barnes and Noble
Buy your iBook at iTunes
Apply practical strategies from the latest expert research to change the way you think and react to feelings of anxiety.
Do you (or does someone you know) have problems with anxiety? Perhaps you're suffering in silence, or perhaps it's affecting your daily life and relationships. Anxiety is a common emotion, and is healthy at times. But when it keeps us from activities and people we once enjoyed, it's a disruptive and terrifying feeling. Using the research of experts in the field of emotional health, this book outlines a basic understanding of anxiety and offers healthy ways to process and change our thoughts, feelings, and behaviors to better deal with it. These strategies are based on Rational Emotive Behavioral Therapy (REBT), a widely used method of examining our own thoughts to challenge and change irrational beliefs. In this book, you will
Discover the "anatomy" of anxiety and break it down into its basic elements
Learn the different forms of anxiety so you can better care for your own
Uncover your own sources of anxiety and learn how certain coping strategies often make it worse
Discover how you experience anxiety through your own thoughts, feelings, and behaviors
Know how and when to reach out for professional help, if necessary
Reclaim your life from anxiety by making conscious choices in your thinking, feeling, and acting.
About Hazelden Quick Guides
Hazelden Quick Guides are short, accessible e-books that draw on the original work and best practices of leading experts to help readers address common addiction recovery and emotional health issues. This first four-book collection applies the proven methods of Rational Emotive Behavior Therapy (REBT) to challenge and change the irrational thoughts and beliefs that contribute to the debilitating effects of shame, anger, depression, and anxiety.
Item:
EB4805
ISBN-13:
9781616494353
Publisher:
Hazelden
Published Year:
2012
Related Items