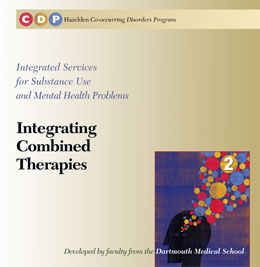 Hazelden Co occurring Disorders Program Integrating Combined Therapies Curriculum 2


Integrated Services for Substance Use and Mental Health Problems Developed by Faculty from the Dartmouth Medical School
3 ring-binder, CD-ROM, Clinician's Guide
Item: 2977
Publisher: Hazelden
Published Year: 2008

List Price:

$319.00 Each


Online Price:

$169.00 Each




The Hazelden Co-occurring Disorders Program was developed and authored by national leaders in the research and treatment of co-occurring disorders. The program authors are faculty members from Dartmouth Psychiatric Research Center, Department of Psychiatry, Community and Family Medicine Department, and Dartmouth Medical School.

The Dartmouth Psychiatric Research Center developed and tested the Integrated Dual Disorder Treatment (IDDT) model, an established evidence-based practice designed for people with severe mental health disorders. The Hazelden Co-occurring Disorders Program draws upon the numerous randomized controlled trials using the
IDDT model and adapts them for patients with non-severe mental health disorders.

Curriculum 2, Integrating Combined Therapies utilizes a combination of motivational enhancement therapy (MET), cognitive-behavioral therapy (CBT), and Twelve Step facilitation (TSF) therapy. Each of these models of therapy has been proven successful when used in community addiction treatment programs. There is a growing consensus that these practices are effective if delivered singularly to patients, but are even more effective if rationally combined based on stage of motivation, problem pattern and severity, and patient preference. MET engages change, CBT works to assist change, and TSF sustain change and elaborates on it. Each of these evidence-based practices is described here with appropriate modifications for persons with co-occurring disorders. This curriculum allows mental health and addiction professionals the flexibility to adapt the stage-wise program from their own base of strength and experience. Curriculum 2 also provides a foundation and context for the more in-depth treatment of CBT (addressed in curriculum 3), the therapeutic model that is the most widely researched and employed in the treatment of psychiatric disorders that commonly co-occur with substance dependence. Integrating Combined Therapies comes with a bound clinician's guide covering the principles and practices of these three therapies and how they can work together, and a CD-ROM with reproducible patient handouts, and patient education fact sheets, packaged in a three-ring binder.

Learn more about CDP, and connect with behavioral health resources, experts, and funding opportunities at www.bhevolution.org.

Hazelden's grant writing toolkits have been specifically designed to help you find the funding you need to purchase our best-selling evidence-based programs. Click here to download your free copy of the toolkit for this program.