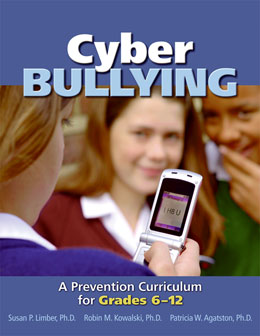 Cyber Bullying Curriculum for Grades 6-12


A Prevention Curriculum
Facilitators manual with CD-ROM
Author: Susan P. Limber, Ph.D.
Author: Robin M. Kowalski, Ph.D.
Author: Patricia W. Agatston, Ph.D.
Item: 7313
Publisher: Hazelden
Published Year: 2008

List Price:

$109.00 Each




Cyber bullying is a particularly insidious, powerful, and devastating form of bullying. Although cyber bullying happens outside school, it affects what happens in school, contributing to poor school performance, depression, and even suicide. However, schools and students have found ways to resist and intervene in cyber bullying. This program can help your students protect themselves and their friends 24/7.

This highly engaging, eight-session curriculum helps students understand what cyber bullying is, its consequences, and what students should do if they are cyber bullied. The program includes a facilitator's guide and a CD-ROM of reproducible handouts, posters, parent materials (in English and Spanish) and information on how to address cyber bullying in a comprehensive schoolwide prevention effort.

Program Goals:
Raise students' and parents' awareness of what cyber bullying is and why it is so harmful.
Equip students with the skills and resources to treat each other respectfully when using cyber technologies.
Give students information about how to get help if they, or others they know, are being cyber bullied.
Teach students how to use cyber technologies in positive ways.
There is very little financial cost to implementing this program. All materials are included in the facilitator's guide and on the CD-ROM. They include:
Reproducible parent resources
Reproducible student fact sheet
Program poster and all student handouts
Resources to address cyber bullying school-wide (school policies, legal concerns, etc.)
Peer leader training materials
A short training on cyber bullying for program facilitators
Click here to download an Olweus Bullying Prevention Program sample cost breakdown. These figures show what an average sized school can expect to pay to implement the program. Please note, every school is unique. These figures are for budgetary purposes and should not be considered final. Please contact a sales representative at 800-328-9000 for a custom quote.

Be sure to visit hazelden.org/cyberbullying for more information on this program, National Academic Standards, goals and objecties, news articles and more.