Program Information
Order Now
Other Violence Prevention Programs
Alcohol and Drug Prevention Curricula
Contact Us
Hazelden Publishing
15251 Pleasant Valley Road
P.O. Box 176
Center City, MN 55012-0176
Business hours:

8 a.m. - 4:30 p.m. (Central Time)
Monday - Friday

800-328-9000
651-213-4200
651-213-4793 fax
Hazelden Publishing
Cyber bullying can happen anytime, anywhere
Hazelden offers two important programs that address attitudes and behaviors associated with cyber bullying:
Cyber Bullying: A Prevention Curriculum for Grades 3-5 and Cyber Bullying: A Prevention Curriculum for Grades 6-12.
These two important resources were designed to:
Raise students' and parents' awareness of what cyber bullying is and why it is so harmful.
Equip students with the skills and resources to treat each other respectfully when using cyber technologies.
Give students information about how to get help if they, or others they know, are being cyber bullied.
Teach students how to use cyber technologies in positive ways.
Each curriculum includes a CD-ROM with additional resources:
Reproducible parent resources in both English and Spanish
Program posters and all student handouts
Resources to address cyber bullying school wide (school policies, legal concerns, etc.)
A short training on cyber bullying for program facilitators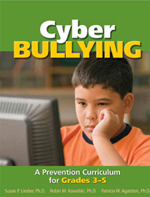 Grades 3-5 curriculum:
In this five session program, students follow two upper elementary school students, Texter (he is a text messaging expert) and Internetta (she is internet savvy). These two characters serve as role models as they share their experiences in helping their friends deal with cyber issues, including cyber bullying.
For a complete description of the grades 3-5 curriculum's goals and objectives, see the Curriculum Scope and Sequence.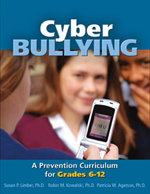 Grades 6-12 curriculum:
This eight session program is designed specifically for students in middle school and high school. Using stories based on actual news events, students participate in small group discussions that center on real-life issues that teens face on the Internet everyday. At the end of the program, students work in small groups to create a plan for their own social networking Web site*.
*Students do not actually create a social networking site.
The grades 6-12 Curriculum Scope and Sequence provides in-depth description goals and objectives.
The authors, Drs. Susan P. Limber, Robin M. Kowalski, and Patricia W. Agatston, are all recognized authorities on bullying and cyber bullying. Read Meet the Authors.
Watch the Cyber Bullying Web Conference: "Cyber Bullying Hurts: How to Prevent and Respond" with Dr. Patricia Agatston.