Naples, FL

---
Step forward with hope — on Florida's Gulf Shore
Welcome to Hazelden in Naples, Florida. Come to us for residential or outpatient addiction treatment and continuing care — and discover lifestyle changes that support lasting recovery. Using evidence-based treatment practices and a Twelve Step approach, our expert clinicians focus on the whole person by addressing the physical, mental, and spiritual aspects of addiction. Our built-in recovery community will surround you in hope and healing to help you step forward in lifelong recovery from addiction.
---
Find hope at Hazelden
"Hazelden gave me hope that I could recover."
"My college friend, who went to Hazelden and is 12 years sober told me,
'Hazelden is the Harvard of rehab.'"
Read More >>
---

Hazel's Cup coffee shop is one of the ways in which Hazelden integrates with the recovering community at Naples providing patients with a real-life experience. Come and enjoy a delicious cup of coffee with us.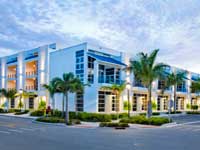 Your treatment plan at Hazelden in Naples is structured expressly for you. A team of specialists will design your plan based on your unique needs.
Learn More >>
Services
Residential Addiction Treatment
Outpatient Addiction Treatment
Outpatient Detox
Older Adults
Assessment Services
Family Program
Recovery Management
Hazelden Connection
MORE
Structured Recovery Housing
Twelve Step Meetings
PROGRAM DETAILS