Grant Writing Template
Sign up to receive our FREE grant writing template to assist you in your grant application process. All you have to do is provide us with some information about your organization and a representative will contact you. Click here.
Funding
Obtaining funding for the Olweus Bullying Preventionprogram is often a key concern for schools and other institutions. Fortunately, many organizations offer financial assistance in the forms of grants and donations.
Program information
Contact Us
Hazelden Publishing
15251 Pleasant Valley Road
P.O. Box 176
Center City, MN 55012-0176
Business hours:

8 a.m. - 4:30 p.m. (Central Time)
Monday - Friday

800-328-9000
651-213-4200
651-213-4793 fax
Hazelden Publishing
Olweus Bullying Prevention Program
Hazelden, in partnership with Clemson University, has created a new Web site for the award-winning Olweus Bullying Prevention Program (OBPP) that offers a wide variety of information and resources.
Visitors can find the latest news stories and information about bullying prevention and OBPP, as well as view streaming video, find funding information, and much more. Our Web site also offers specific pages for administrators, teachers, and parents, which include suggestions on how to advocate for bullying prevention programs at their schools.
With more than 50 pages of easy-to-find information, our Web site is an extraordinarily comprehensive resource.
The World's Foremost Bullying Prevention Program Is Better Than Ever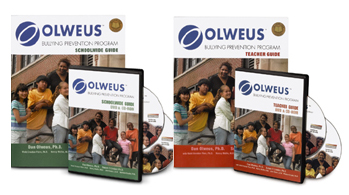 Order the Olweus Bullying Prevention Program now

The Olweus Bullying Prevention Program is the most researched and the best-known bullying prevention program available today.
Proven to reduce bullying by up to 70%
Significant reductions in student reports of general antisocial behavior, such as vandalism, fighting, theft, and truancy
Significant improvements in the social climate of the classroom and student satisfaction with school life
For more information on the Olweus Bullying Prevention Program, simply send us an email along with your name and mailing address.