Contact Us
Hazelden Publishing
15251 Pleasant Valley Road
P.O. Box 176 Center City, MN 55012-0176
Business hours: 8 a.m. - 4:30 p.m.
(Central Time)
Monday - Friday 800-328-9000
651-213-4200
651-213-4793 fax
email us
Hazelden Publishing
Alcohol and Drug Prevention for Teens
Alcohol is the drug of choice for American teenagers, and alcohol use during early adolescence increases the likelihood of progression to heavy alcohol use and to the use of other illicit drugs. The influence of peers, family members, school, the media, and the community have been shown to play a critical role in promoting or discouraging alcohol use among teens. That's why the prevention researchers who developed Project Northland focused on engaging not only youth but also schools, families, and the larger community in one comprehensive prevention effort.
Project Northland Grades 6-8 - Alcohol Use Prevention Curriculum
Used in SAMHSA's Reach Out Now Program
by Cheryl L. Perry, Ph.D., Kelli A. Komro, Ph.D., Carolyn L. Williams, Ph.D., Sara Veblen-Mortenson, M.S.W., M.P.H., and
Bonnie S. Dudovitz, M.Ed., Developed by the University of Minnesota
Recognition - National Registry of Evidence-based Programs and Practices
"A" Rating - Making the Grade by Drug Strategies
Exemplary Programs - Office of Juvenile Justice and Delinquency Prevention, U.S. Department of Justice and Safe and Drug-Free Schools, U.S. Department of Education
Meets Principle of Effectiveness #3 for Safe and Drug-Free School
Now better-than-ever, the 2nd Edition of Project Northland includes helpful new resources, reflects greater diversity, shows realistic situations facing today's youth, and maintains fidelity to the original version and its powerful prevention messages. This 2nd Edition is completely redesigned to be more portable and user-friendly. Delivering Project Northland is now easier than ever!
Class Action: Grades 9-12 - A High School Alcohol Use Prevention Curriculum
by Cheryl L. Perry, Ph.D., Carolyn L. Williams, Ph.D., and Sara Veblen-Mortenson, M.S.W., M.P.H., Developed by the University of Minnesota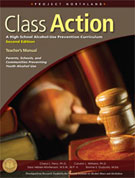 This high-school component of Project Northland looks at the real-world social and legal consequences of underage alcohol use. Based on the social influences theory of behavior change, the goal of Class Action is to change the social norms around alcohol use and to change negative peer pressure into positive peer pressure. In eight to ten weekly sessions, teens are divided into six legal teams to prepare and present hypothetical civil cases in which someone has been harmed as a result of underage drinking.
The eight cases are:
Drinking and Driving on Trial, Fetal Alcohol Syndrome on Trial,
Drinking and Violence on Trial, Date Rape on Trial,
Drinking and Vandalism on Trial, and School Alcohol Policies on Trial,
Binge Drinking on Trial, Drinking and Hazing on Trial
About Project Northland
Project Northland is based on the most rigorous alcohol-use prevention trial ever funded by the National Institute on Alcohol Abuse and Alcoholism (NIAAA) and was developed in a region of the country that led the nation in alcohol-related teen traffic fatalities. The program was designed by prevention researchers to delay the age when youth begin drinking, to reduce use among young people who have tried alcohol, to limit the use of other drugs, and to reduce alcohol-related problems.
How it works
Project Northland employs grade-specific tasks, exercises, and activities in a variety of highly engaging, interactive formats--such as comic books and posters--to reach young people at an age when they are most likely to try alcohol. Because this program includes important community components, it can be effectively implemented by schools as well as by community programs.
Study outcomes
Project Northland is a CSAP-approved curriculum with proven outcomes. Overall, outcomes from an initial three-year test of the program show that, relative to the control group, students who participated in Project Northland demonstrated reduced levels of alcohol, marijuana, and cigarette use and displayed more resilient behaviors.
Students who participated in Project Northland:
Showed reduced levels of alcohol use

30% lower weekly drinking
20% lower monthly drinking



Engaged in significantly less cigarette and alcohol use over time

27% lower use of cigarettes by the end of eighth grade
27% lower use of alcohol by the end of eighth grade



Demonstrated markedly lower drug use by eighth grade. Intervention group students who never drank alcohol at the beginning of sixth grade showed

50% lower marijuana use by the end of eighth grade
37% lower cigarette use by the end of eighth grade
Training is available, email training@hazelden.org or call 1-800-328-9000 ext.4672.