Monday, August 31, 2015
Thought for the Day

"Call on new prospects while they are still jittery. They may be more receptive when depressed. See them alone if possible. Tell them enough about your drinking habits and experiences to encourage them to speak of themselves. If they wish to talk, let them do so. If they are not communicative, talk about the troubles liquor has caused you, being careful not to moralize or lecture. When they see you know all about the drinking game, commence to describe yourself as an alcoholic and tell them how you learned you were sick." Am I ready to talk about myself to new prospects?

Meditation for the Day

Try not to give way to criticism, blame, scorn, or judgment of others when you are trying to help them. Effectiveness in helping others depends on controlling yourself. You may be swept away by a temporary natural urge to criticize or blame, unless you keep a tight rein on your emotions. You should have a firm foundation of spiritual living which makes you truly humble, if you are going to really help other people. Go easy on them and be hard on yourself. That is the way you can be used most to uplift a despairing spirit. And seek no personal recognition for what you are used by God to accomplish.

Prayer for the Day

I pray that I may try to avoid judgment and criticism. I pray that I may always try to build up others instead of tearing them down.
From Twenty-Four Hours a Day © 1975 by Hazelden Foundation. All rights reserved. No portion of this publication may be reproduced in any manner without the written permission of the publisher.
Twenty Four Hours a Day Hardcover (24 Hours) is available for purchase in our online bookstore.

Make Twenty-Four Hours a Day my default Thought for the Day Category.
THOUGHT FOR THE DAY READINGS ARE MOVING IN SEPTEMBER 2015!
Check them out on our new website at
www.hazeldenbettyford.org
And then bookmark the site so you won't miss a day!
Recovery Support App
We have an app for that — Our daily meditation books are available as apps for your smart phone. Learn more.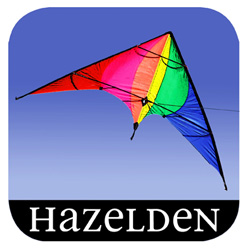 Inspirations from Hazelden is a free collection of daily messages to inspire you on your journey of recovery. Get it now.
Get recovery support anywhere, anytime with the Mobile MORE Field Guide to Life iPhone app.
Daily inspiration • Sober Challenges • Progress Tracker • Community Support • Meeting Finder • Relapse Prevention