Friday, October 24, 2014
Opening Ourselves to Love

Open ourselves to the love that is available to us.

We do not have to limit our sources of love. God and the Universe have an unlimited supply of what we need, including love.

When we are open to receiving love, we will begin to receive it. It may come from the most surprising places, including from within us.

We will be open to and aware of the love that is and has been there for us all along. We will feel and appreciate the love from friends. We will notice and enjoy the love that comes to us from family.

We will be ready to receive love in our special love relationships too. We do not have to accept love from unsafe people - people who will exploit us or with whom we don't want to have relationships.

But there is plenty of good love available - love that heals our heart, meets our needs, and makes our spirit sing.

We have denied ourselves too long. We have been martyrs too long. We have given so much and allowed ourselves to receive too little. We have paid our dues. It is time to continue the chain of giving and receiving by allowing ourselves to receive.

Today, I will open myself to the love that is coming to me from the Universe. I will accept it and enjoy it when it comes.
From The Language of Letting Go by Melody Beattie ©1990, Hazelden Foundation. All rights reserved. No portion of this publication may be reproduced in any manner without the written permission of the publisher.
The Language of Letting Go is available for purchase in our online bookstore.

Make Language of Letting Go my default Thought for the Day Category.
Register for our free motivational emails
SIGN UP for our Today's Gift email service. They're our daily gift to you.
The Gifts of Imperfection, Rated #1 by The New York Times
Recovery Support App
We have an app for that — Our daily meditation books are available as apps for your smart phone. Learn more.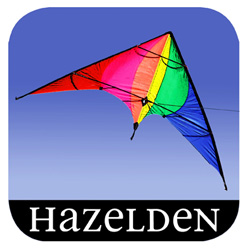 Inspirations from Hazelden is a free collection of daily messages to inspire you on your journey of recovery. Get it now.
Get recovery support anywhere, anytime with the Mobile MORE Field Guide to Life iPhone app.
Daily inspiration • Sober Challenges • Progress Tracker • Community Support • Meeting Finder • Relapse Prevention