Tuesday, September 2, 2014
Detaching with Love with Children

It's one thing to let go of my husband and let him suffer the consequences. But how do I let go of my children? Isn't it different with children? Don't we have responsibilities as parents?
—Al Anon member

We do have different responsibilities to our children than to other adults. We are financially responsible for our children; we are responsible for providing for their material and physical needs.

Our children need to be taught how to help themselves - from tying their shoes to making social plans. They need our love and guidance. They need consistent enforcement of boundaries, once we've established limits. They need a supportive, nurturing environment in which to grow. They need help learning values.

But we are not responsible for controlling our children. Contrary to popular belief, controlling doesn't work. Discipline and nurturing do - if combined. Shame and guilt interfere with our children's learning and our parenting. We need to respond to our children in a responsible way and hold them accountable for their actions at an age appropriate level. We need only do our best.

We can let our children have their own process of living; we can have our own process. And, we can take care of ourselves during that process. Seek balance. Seek wisdom, Seek not to have control, but to own our power as people who are parents.

Today, God, help me find an appropriate balance of responsibility to my children. Help me parent through nurturing and discipline, instead of control.
From The Language of Letting Go by Melody Beattie ©1990, Hazelden Foundation. All rights reserved. No portion of this publication may be reproduced in any manner without the written permission of the publisher.
The Language of Letting Go is available for purchase in our online bookstore.

Make Language of Letting Go my default Thought for the Day Category.
Register for our free motivational emails
SIGN UP for our Today's Gift email service. They're our daily gift to you.
The Gifts of Imperfection, Rated #1 by The New York Times
Recovery Support App
We have an app for that — Our daily meditation books are available as apps for your smart phone. Learn more.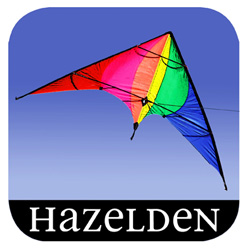 Inspirations from Hazelden is a free collection of daily messages to inspire you on your journey of recovery. Get it now.
Get recovery support anywhere, anytime with the Mobile MORE Field Guide to Life iPhone app.
Daily inspiration • Sober Challenges • Progress Tracker • Community Support • Meeting Finder • Relapse Prevention