Contact Us
Reporters looking for quotable sources, addiction resources, or media contact with our authors may contact us at:
Andrew B. Mendenhall, M.D.
Medical Director of Hazelden in Beaverton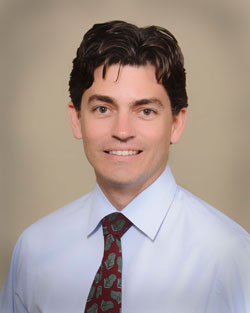 Andrew B. Mendenhall, M.D. is Medical Director of Hazelden in Beaverton, Ore. Dr. Mendenhall was co-founder of HealthWorksNW, a multidisciplinary addiction medicine and pain management clinic acquired by Hazelden, Center City, Minn., in the fall of 2012.
Dr. Mendenhall is board certified by the American Board of Addiction Medicine and the American Board of Family Medicine. He is also a diplomate of the American Academy of Pain Management.
He is a graduate of Oregon Health and Sciences University and completed family medicine residency at OHSU in 2003. He served OHSU as a clinical leadership fellow in 2004 prior to moving to Newberg, Ore., to enter practice in family medicine.
While working in family medicine, Dr. Mendenhall identified unmet care needs for patients with persistent pain diagnoses, drug and alcohol issues, and saw the confluence of these issues within patients who suffer from both pain management and chemical dependency diagnoses, simultaneously. Furthermore, Dr. Mendenhall became aware of the vast disparity in addiction medicine and pain management care that exists within the U.S. health delivery system.
Dr. Mendenhall concurrently became a consultant physician for Hazelden in Springbrook in 2005 and he pursued private fellowship training in pain management and spinal diagnostics.
In 2010, Dr. Mendenhall co-founded HealthWorksNW in response to the need for a subspecialty clinic that addresses the complex care needs of patients with co-occurring mental health, pain management, and addiction medicine issues.
Dr. Mendenhall's subspecialty is caring for the persistent pain patient with addiction and chemical dependency issues. He supervises complex medical detoxification, and provides multidisciplinary, integrative pain management consultation.
Dr. Mendenhall's primary clinical interest is helping patients remain clean and sober through the provision of relapse prevention pharmacotherapies. These therapies are combined with different forms of abstinence-based, outpatient and residential treatment, and coordination of a full-spectrum of integrative pain management modalities.
---
Marijuana use even more dangerous for teens, 2/11/15
KGW-TV, 60% of teens treated at Beaverton are trying to kick an addiction to pot, 7/11/14
Dealing with trauma following the shooting at Reynolds H.S. in Portland, Ore., 6/11/14
Beaverton Valley Times (Oregon), 4/11/13