Contact Us
Hazelden Publishing
15251 Pleasant Valley Road
P.O. Box 176 Center City, MN 55012-0176
Business hours: 8 a.m. - 4:30 p.m.
(Central Time)
Monday - Friday 800-328-9000
651-213-4200
651-213-4793 fax
email us
Hazelden Publishing
A New Direction, 2nd Edition
A Cognitive-Behavioral Treatment curriculum
"If there's a program out there that's better than this one, I haven't found it."
Mary Jane Saksa, Director of Substance Abuse, Worcester County (MA) Sheriff's Department, on their use of A New Direction (A.N.D.) with over 175 clients per year.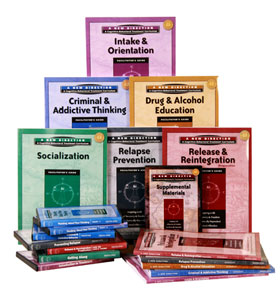 Give your law-involved clients A New Direction
With A New Direction, clients create their own therapeutic community environment, holding each other responsible and accountable
Relates to broad spectrum of client life experience with culturally diverse graphics, language, and case studies
Gives clients the livings skills and relapse-prevention tools needed to stay sober after release
Helps clients develop life goals and objectives, decreasing likelihood of recidivism in criminal justice clients
How it works for you:
This evidence-based program is proven-effective as a supplement to existing programs or as core programming
Effective in any criminal justice modality
Modules can be used separately, sequentially, or in any sequence
Standardizes treatment across multi-facility system
Meets most existing and anticipated federal funding requirements
What Sets the 2nd Edition of A New Direction Apart?
A streamlined format ensures easy implementation throughout your facility
The CD-ROM of additional and reproducible material includes supplemental information and worksheets as well as the Outcome Study Guidebook, Staff Guidebook, and Administrator's Guidebook
The expanded Release and Reintegration Preparation Module now includes Hazelden's groundbreaking video The Turning Point: Breaking the Cycle of Addiction and Incarceration.The addition of this poignant video brings new depth to this important module.
The workbooks
Information, exercises, activities, and Thinking Reports help offenders see that criminality and addiction are thinking problems before they become behavioral problems.
The facilitator's guides
Each guide contains the entire client workbook with sidebar notes, suggestions, and supplemental information for facilitators.
The videos
Filmed in actual correctional facilities, A New Direction videos feature real clients sharing the real story of recovery from a life of addiction and crime. A New Direction also uses some of Hazelden's top videos developed for substance abuse treatment. All videos are available for preview. Call your sales associate for details at 800-328-9000.
Training
Hazelden trainers and DOC professionals will help you identify program needs, get buy in, and develop outcome evaluation strategies before implementation. Call your sales for details at 800-328-9000.
Hazelden sales consultants can build a package of products and implementation training that works specifically for you. Contact your sales associate at 800-328-9000.