Contact Us
Reporters looking for quotable sources, addiction resources, or media contact with our authors may contact us at:
Marvin D. Seppala, M.D.
Chief Medical Officer
National expert on addiction treatment, pharmacological treatments and integration of evidence-based practices. Ability to speak in layman's terms on the complicated disease of addiction.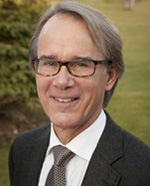 Marvin D. Seppala, MD, is chief medical officer at Hazelden Betty Ford Foundation, and serves as adjunct Assistant Professor at the Hazelden Graduate School of Addiction Studies. His responsibilities include overseeing all interdisciplinary clinical practices, maintaining and improving standards of care, and supporting growth strategies for residential and nonresidential addiction treatment programs and services throughout the country.
Seppala attended St. Olaf College in Northfield, Minnesota, and is a graduate of Drake University in Des Moines, Iowa. He obtained his M.D. at Mayo Medical School in Rochester, Minnesota, serving his residency in psychiatry and a fellowship in addiction at University of Minnesota Hospitals in Minneapolis.
Seppala is author of Clinician's Guide to the Twelve Step Principles, a McGraw-Hill/Hazelden book published in 2002. He co-authored When Painkillers Become Dangerous, Hazelden Publishing, in 2004, followed by Pain-Free Living for Drug-Free People, Hazelden Publishing, in 2005. He is also the author of Prescription Painkillers: History, Pharmacology and Treatment, Hazelden Publishing (2010).
Seppala served as a board member of the American Society of Addiction Medicine (ASAM) for several years and is a national expert on addiction treatment. He has appeared as a guest on CBS's The Early Show, CNN, and National Public Radio. He has been quoted in The New York Times, The Washington Post, USA Today, Newsweek and The Wall Street Journal.
In the News
Yahoo! News, Abstinence vs. medication-assisted treatment: Traditional 12-step programs embrace a new model, Feb 2016, Feb 2016
Washington Post, Treating addicts: The tension between drug treatment and abstinence, January 2016
Huffington Post, FDA Approves Nasal-Spray Version Of Overdose Drug Naloxone, November 2015
Dr. Oz's The Good Life, Anti-Smoking Ads Might Be Doing the Exact Opposite of What They're Supposed To Do, November 2015
USA TODAY, Advocates push to expand use of medications to treat addiction, July 2015
KOIN-TV, Heroin 'more common, diverse than ever in past', July 2015
Portland Business Journal, Price of Addiction: CDC report underscores what Oregon already knows, July 2015
Nature, Pharmacotherapy: Quest for the quitting pill, June 2015
The Pharmaceutical Journal (UK), Heroin abuse: breaking the cycle, June 2015
Portland Business Journal, Price of Addiction: Hazelden doc testifies in Congress about opioid scourge, April 2015
Local doctor takes opioid abuse to Congress, May 2015
Dr. Seppala's Testimony on Opioid Crisis, May 2015
The Fix conducts a Q&A with Dr. Marvin Seppala, May 15
The Portland Physician Scribe, Ask the Expert: Education about prescription drug abuse is key, Feb, 2015
eSocial

Follow Dr. Marv Seppala on Twitter