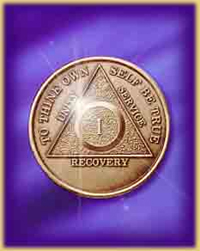 Celebrate recovery milestones with
eMedallions and iCare cards
Registered members of Hazelden's online community are able
to send eMedallions and iCare cards free — just click on the link to Sign In in the top right corner of the page.
Already signed in?
If you have signed in to the site, move your cursor over the In Recovery tab above, and you'll see links to "Send an iCare card" and "Send an eMedallion" in the dropdown menu.
Not yet registered?
If you are new to the Hazelden Web site, we encourage you to register today. In addition to eMedallions, you'll also be entitled to receive our free daily meditation emails, a 10% discount plus free shipping on orders of $50 or more in our online bookstore (standard U.S. ground), and many other benefits. REGISTER NOW.