Hazelden's Center for Public Advocacy
Fighting stigma, speaking out, promoting recovery

We Believe
Welcome to the Hazelden Center for Public Advocacy. Although there are many issues surrounding alcohol and drug addiction, treatment and recovery, at the core of Hazelden's advocacy and public policy work are several guiding principles:
Addiction to alcohol and other drugs is a chronic illness and a public health problem impacting all Americans.
Addiction is a treatable illness with measurable outcomes of success, and Hazelden's addiction treatment model offers people the best opportunity to find lifelong recovery.
Standardized treatment outcomes are integral to ensuring that people receive proper care. These standards must also help to define the treatment field's role in the continuum of health care services at the state and federal level.
All people with addiction deserve to find treatment and recovery services that are appropriate to each person's needs.
The stigma of addiction is a major barrier to recovery; access to care is improved by ending discrimination against people with this illness.
We hope you visit this site often for up-to-date information on treatment, recovery and advocacy issues.
View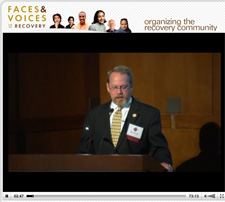 Congresswoman Betty McCollum and the CPA's Dean Peterson discuss Hazelden's Olweus anti-bullying curriculum before McCollum spoke at a recent bullying summit Hazelden sponsored with Minnesota school groups. McCollum is a supporter of federal anti-bullying legislation.