Contact Us
Call us any day, any time
800-257-7810
651-213-4200

P.O. Box 11
15251 Pleasant Valley Rd.
Center City, MN 55012-0011
Four Generations Overcoming Addiction
Silence, embarrassment and confusion often keep the addiction cycle in families going. Sharing honestly about personal experiences with addiction can be a powerful antidote to this often hidden disease.

For the past 60 years, Hazelden has been offering four generations of Americans – The Greatest Generation, Baby Boomers, Generation X and Millennials – a road to lasting and sustainable recovery from alcohol and other drug addiction. Recovery is not only possible but stronger when the alcoholic or addict and family members are able to discuss the disease and bring it out into the light, where it can be addressed openly and directly.
Why this outreach effort?
Three Hazelden Foundation leaders discuss why they are launching a public awareness campaign that encourages people from different generations to talk about addiction. Watch the video to see:
Mark Mishek - Hazelden President and CEO
Joseph Lee, MD - Hazelden Adolescent Addiction Specialist
Marv Seppala, MD - Hazelden Chief Medical Officer
Feature Story
Family learned addiction isn't "a phase" - it is a disease.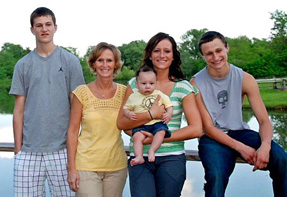 For Riley F., addiction started in middle school.
Read their story »