Connection
Connection Video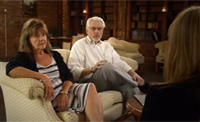 Providing guidance and support toward lifelong recovery
For most people new to recovery, the first months following addiction treatment are critical to building lasting sobriety. Learning how to stay sober is a lifelong journey. Hazelden Betty Ford Foundation Connection provides support as participants transition to a new environment, to school, or back to work. Through recovery coaching and support, Connection engages participants and their family or other concerned persons such as school counselors, employers, and probation officers to promote lifelong recovery.
Connection is designed for people who need additional support and accountability in their early recovery. This intensive program is ideal for people facing legal issues, custody matters, loss of professional license, students returning to college, people who have been in treatment multiple times and those who need additional support and accountability in their early recovery.
An individualized Recovery Care Plan will be developed. The plan will utilize the participant's professional and support team to help encourage active participation and monitor accountability. Throughout the program there is coaching on life skills, recovery needs, random drug testing, and monitoring and reporting of adherence to the Continuing Care plan.
This program includes:
An intensive level of coaching, case management, and accountability
Frequent, ongoing phone contact with the participant and family or other concerned persons
Documented recovery updates
Phone and written contacts with primary and secondary collateral contacts
Random drug testing for accountability
---
Research shows ...
Research indicates that the longer one stays engaged in recovery activities, the more likely they are to succeed in recovery. That is why we developed this recovery program.
Testimonials
"The ability to have that interaction with a recovery coach has been a tremendous resource and another solid block to the foundation of my recovery. The phone conversations have been invaluable in my recovery. I looked forward to those Monday AM calls, and the comfort of knowing that you were there if I needed support made the transition all the more possible. I would highly recommend this program to anyone who is committed to their recovery. It is a GREAT tool to have at one's disposal. I personally find it a sense of security and a place I can find the direction I need for any issues that might arise. The daily thoughts and words of support, truly have been an immense help. Thanks, can not say enough,"


-A Connection participant

"Connection is a great program and I think everyone should do it. It saved my life and my relationships. The support has been great!"


-A grateful Connection participant