Contact Us
Hazelden Publishing
15251 Pleasant Valley Road
P.O. Box 176
Center City, MN 55012-0176
Business hours:

8 a.m. - 4:30 p.m. (Central Time)
Monday - Friday

800-328-9000
651-213-4200
651-213-4793 fax
View Hazelden evidence-based curricula and videos
Anytime, anywhere!

Provide your organization easy access to Hazelden's evidence-based curricula and videos --
now available to stream directly to your computer with Hazelden On Demand.
A Hazelden On Demand subscription includes three full years of service.
24/7 access and unlimited use to videos and content
Multiple users access - Never wait for the resources you need again
Access to all video and curricula in one place – with one log on
Exclusive Hazelden On Demand reporting system helps track usage
Streamlined interface makes it easy to manage your subscriptions
Closed captioning included with all videos
All program documentation available to read online, download or print
Save on paper – Print only the sections you need
Free technical support
Hazelden On Demand Library includes:
Hazelden Video Library: Choose to subscribe to one video or all!
The Hazelden Curricula includes Living in Balance, our best-selling evidence-based program for the treatment of substance use disorders. Also available as an electronic subscription is the internationally-renowned Olweus Bullying Prevention Program and Lifelines: A Comprehensive Suicide Awareness and Responsiveness Program for Teens.
Your Hazelden on Demand Subscription is Easy to Manage!
No need to worry about IT resources to stream video or distribute electronic content – Hazelden On Demand does that for you. And with only one username and password needed per site, it's easy to manage multiple subscriptions amongst multiple users.
Add new titles to your Hazelden on Demand subscription at any time
Renewing your subscription is seamless – Hazelden will contact you and handle all the details
Your site's username and password will not change when adding or renewing titles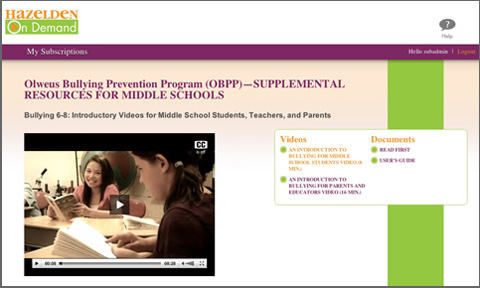 Hazelden On Demand videos can be played on a computer, projected on a screen or smart board, or streamed through closed circuit TV
Related documents are available in PDF format and can be read online, downloaded to a computer or printed directly from the HOD platform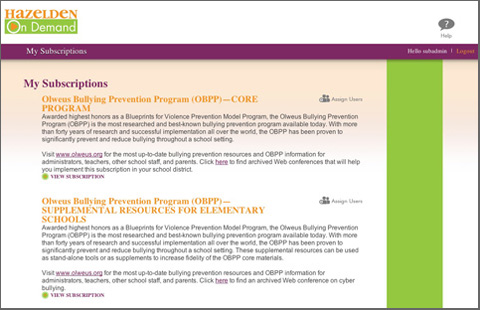 Access all video and curricula subscriptions in one place – with one log on
Hazelden On Demand's streamlined interface makes it easy to assign and manage your subscriptions
Subscribe Today! Contact your Hazelden Sales Representative to order* or for more information!
* When subscribing to Hazelden On Demand streaming videos, you will receive access to the video and accompanying documentation for three full years of service. Once you have placed your order for Hazelden On Demand videos, you will receive an e-mail notification containing your sign-on information. Upon initial sign-on to Hazelden On Demand, you will be prompted to accept the Hazelden on Demand Terms of Use which will activate your subscription