Springbrook, OR

---
Addiction treatment for LGBTQ-identifying individuals
For lesbian, gay, bisexual, transgender and questioning (LGBTQ) individuals, addiction can be especially complex. Shame and rejection; depression, anxiety, and trauma; the internalization of cultural sex-negativity, and identity conflicts and confusion are some of the primary issues these clients may face as they work toward recovery. But with the right care and support, addiction can be treated and managed--for life.
But with the right care and support, addiction can be treated and managed—for life.
Research suggests that LGBTQ individuals benefit from uniquely tailored addiction treatment -– treatment that is affirming and integrative. The Hazelden Betty Ford Foundation LGBTQ program provides hope, healing and health in a safe, open and supportive environment at Hazelden in Springbrook.
What is LGBTQ-integrative treatment?
LGBTQ-integrative treatment equally accommodates heterosexual and LGBTQ clients, emphasizing sensitivity for those early in the stages of "coming out," and in conflict. Every component of treatment takes into account LGBTQ needs, using evidence-based LGBTQ-specific curriculum. Treatment aims to address the existential trauma of living closeted, of family system rejection, and anti-gay emotional and physical violence.
Groups offered at our other facilities
Rancho Mirage, CA -- LGBTQ-integrative programming in the Intensive Outpatient Program at the Betty Ford Center.
Center City, MN -- Weekly staff supervised peer support group for all LGBTQ clients. Clients also attend a weekly LGBTQ inclusive Twelve Step meeting in the Twin Cities.
Plymouth, MN -- Peer support group and AA/NA meetings for LGBTQ patients. Individual counseling and family support is also available.
Training, Resources, Opportunities
Depending upon their individualized treatment plan, LGBTQ clients also often engage in programming such as:
Seeking Safety Group
Mindful Coping Skills Group
Body Image Group
Impulsivity Group
Dietician Consult
Trauma and Health Care Professionals Integration
---
In the news
Buster Ross, the LGBTQ Program Director at the Hazelden Betty Ford Foundation, talks about new research involving addiction issues in the LGBTQ community. 6/27/14, KGW-TV in Portland, Ore.
Testimonial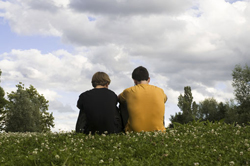 "Having a space to discuss sexuality and addiction was one of the most positive and helpful experiences of treatment."
–LGBTQ program participant