In response to the nation's epidemic of prescription painkiller addiction
Comprehensive Opioid Response with the
Twelve Steps (COR-12TM)
The death toll from prescription painkiller overdose across the U.S. has increased more than five times in the past decade (from 3,000 deaths in 1999 to 15,500 in 2009), prompting the Centers for Disease Control to define the problem as an epidemic.
The Hazelden Betty Ford Foundation's addiction treatment facilities have seen a corresponding increase in the number of patients seeking treatment for opioid addiction. In Center City, Minn., for example, those seeking treatment for opioid addiction rose from 19 percent of patients in 2001 to 30 percent in 2011. An even more dramatic jump was seen at the Hazelden facility for young adults and adolescents in Plymouth, Minn., from 15 percent of patients in 2001 to 41 percent in 2011.
As part of a comprehensive response to this crisis, the Hazelden Betty Ford Foundation offers extended, adjunctive medication assisted treatment for opioid dependence as a means to help people achieve a stable, Twelve Step-based recovery lifestyle and ultimate abstinence from opioids.
Hazelden Betty Ford is committed to using scientific evidence to continuously improve our treatment methods and outcomes.
Our goal will be to discontinue the medications as our patients become established in long-term recovery.
We will study the results of these new treatment protocols and share the results through our Butler Center for Research.
Our mission, vision and values statements are clear in outlining our responsibility to pursue the best, most effective methods for treating our patients.
Resources and tools
for professionals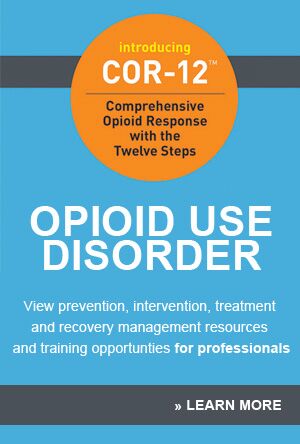 Introducing COR-12TM for
Opioid Use Disorder

From prevention and intervention, to treatment and recovery management

Prescription Painkillers
History, Pharmacology, and Treatment
by Marvin D. Seppala, M.D. and Mark Edmund Rose, M.A.