Mobile MORE®
Field Guide to Life

Born from MORE, or My Ongoing Recovery Experience, a web-based program of personalized continuing care provided by Hazelden to our clients, the Field Guide to Life offers the best of this program to the entire sober community. Compatible with the iPhone, iPad, or iPod touch, this ingenious app teaches users the essential skills connected to core recovery principles, helping them evolve in their sobriety.
Contact Us
Hazelden Publishing
15251 Pleasant Valley Road
P.O. Box 176
Center City, MN 55012-0176
Business hours:

8 a.m. - 4:30 p.m. (Central Time)
Monday - Friday

800-328-9000
651-213-4200
651-213-4793 fax
Hazelden Mobile Applications
With Hazelden's mobile applications, you'll find the instant motivation you need to strengthen your recovery and inspire personal growth no matter where you are. From apps based on our best-selling books that feature special enhancements like texts and video messages from the authors to those based on our best-selling meditation books, Hazelden mobile applications are there when you need them most, at the touch of your fingertips.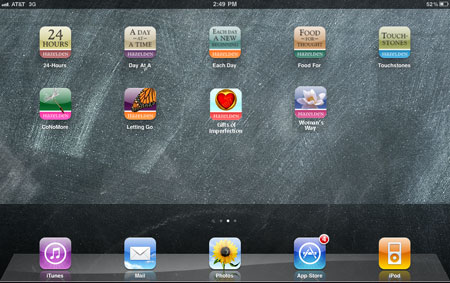 Spread the Word
Help us get the word out by signing on to iTunes or your favorite Android retailer and submitting a review today!
eBooks
Hundreds of titles now available: