Contact Us
Reporters looking for quotable sources, addiction resources, or media contact with our authors may contact us at:
Helen Pettinati earns Dan Anderson
Research Award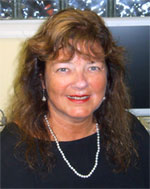 CENTER CITY, MINN. – (December 8, 2010) – Helen Pettinati, Ph.D., Director of the Addiction Treatment Research and Medication Development Division, Center for the Studies of Addiction, University of Pennsylvania, has earned the latest Dan Anderson Research Award for her randomized clinical trial examining the effects of both sertraline (an antidepressant) and naltrexone (an anti-craving agent) on treatment outcomes. Sponsored by the Butler Center for Research at Hazelden, the award honors a single published article by a researcher who has advanced the scientific knowledge of addiction treatment and recovery.
Pettinati earned the award for her study, "A Double-Blind, Placebo-Controlled Trial Combining Sertraline and Naltrexone for Treating Co-Occurring Depression and Alcohol Dependence," published in the June 2010 issue of the American Journal of Psychiatry. The study focused on 170 individuals attending outpatient treatment for alcohol dependence, all of whom had a co-occurring depressive disorder. All participants received weekly cognitive behavioral therapy sessions and were randomly assigned to one of four treatment groups: a combined sertraline and naltrexone group, a naltrexone-only group, a sertraline-only group, and a placebo control group. Participants taking both medications were compared to the other three groups on a number of treatment outcomes, including total abstinence, time to relapse, and presence of depression symptoms.
"The co-occurrence of depression and alcohol dependence is highly prevalent and difficult to treat successfully," said Pettinati. "The present findings suggest that patients with both disorders would benefit from combination treatment with an antidepressant and anti-craving medication for alcohol dependence." Dr. Charles O'Brien nominated Dr. Pettinati for the award, stating her work "can be expected to have a major impact on the treatment of alcoholic patients comorbid for depression."
The study produced several interesting and noteworthy results. Compared to patients receiving placebo or just one of the medications, patients taking both medications had a significantly higher abstinence rate during the 14-week treatment period and demonstrated a longer period of time before relapse to heavy drinking. In addition, patients taking both medications were more likely than the other groups to report an absence of depression by the end of treatment.
"Our Scientific Panel of Advisors was impressed with the scientific rigor of this study and the potential it has for improving the lives of people suffering from both addiction and a co-occurring psychological disorder," stated Dr. Audrey Klein, Director of the Butler Center for Research at Hazelden. "It is well established that the majority of individuals with a substance use disorder have at least one other psychological disorder. Treatment of both disorders is absolutely essential to give these individuals the best chance of long term recovery."
Dr. Pettinati will accept the award and a $2,000 honorarium on May 16, 2011 at the National Association of Addiction Treatment Providers (NAATP) annual conference in Phoenix, Arizona. The award is named for the late Dan Anderson, Ph.D., the former president of Hazelden and one of the major architects of the Minnesota Model, the interdisciplinary approach to addiction treatment that has been implemented worldwide.
Pettinati's research was selected as the best from among several outstanding candidates by the Scientific Panel of the Butler Center for Research. The panel includes Klein; Valerie Slaymaker, Ph.D., Chief Academic Officer and Provost of the Hazelden Graduate School of Addiction Studies; Carlton Erickson, Ph.D., University of Texas-Austin; Lee Ann Kaskutas, Dr.PH, Alcohol Research Group, Emeryville, Calif.; Stephanie O'Malley, Ph.D., Yale University; Jon Morgenstern, Ph.D., National Center on Addiction and Substance Abuse, New York; and Constance Weisner, Ph.D., University of California-San Francisco.
The award is named in honor of Dan Anderson, PhD, president emeritus of Hazelden and one of the major architects of the Minnesota Model, the well-known multidisciplinary approach to addiction treatment. Pettinati is the fifteenth recipient of the annual award. Recognizing outstanding research and conducting research of its own are the primary objectives of the Butler Center for Research, the research arm of Hazelden.
About Hazelden
Hazelden, a national nonprofit organization founded in 1949, helps people reclaim their lives from the disease of addiction. Built on decades of knowledge and experience, Hazelden offers a comprehensive approach to addiction that addresses the full range of patient, family, and professional needs, including treatment and continuing care for youth and adults, research, higher education, public advocacy, and publishing. Hazelden has facilities in Minnesota, Illinois, New York, Oregon, and Florida.
Hazelden is committed to protecting the privacy of people who participate in Hazelden programs and abides by all applicable federal and state laws that protect such confidentiality.