Contact Us
Hazelden Publishing
15251 Pleasant Valley Road
P.O. Box 176
Center City, MN 55012-0176
Business hours:

8 a.m. - 4:30 p.m. (Central Time)
Monday - Friday

800-328-9000
651-213-4200
651-213-4793 fax
Hazelden Publishing
Safe Dates
Prevention program for dating abuse

Safe Dates is the only evidence-based curriculum that prevents dating abuse: a factor often linked to alcohol and other drug use.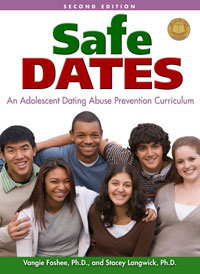 Highly engaging and interactive, Safe Dates helps teens recognize the difference between caring, supportive relationships and controlling, manipulative, or abusive dating relationships. Designated as a Model Program by the Substance Abuse and Mental Health Services Administration. In 2006, Safe Dates was selected for the National Registry of Evidence-based Programs and Practices (NREPP), and received high ratings on all criteria.
Grant writing template
Hazelden's grant writing toolkits have been specifically designed to help you find the funding you need to purchase our best-selling evidence-based programs.
Click here to download
your free copy of the toolkit for this program.