Contact Us
Reporters looking for quotable sources, addiction resources, or media contact with our authors may contact us at:
Jim Steinhagen, M.A., Executive Director
Vice President and Administrator, Betty Ford Center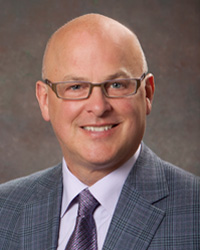 Jim Steinhagen is the vice president and administrator of the Betty Ford Center, part of the Hazelden Betty Ford Foundation, in Rancho Mirage, Calif.
Prior to taking on his new role, Steinhagen was the executive director of Youth and Young Adult Services at Hazelden's Plymouth, Minnesota campus. Hazelden's Plymouth facility helps young men and women, ages 12-25, find freedom from alcohol and other drugs.
Steinhagen has over three decades of experience in the field of addiction treatment, functioning in a variety of roles with diverse populations and challenges. Prior to joining Hazelden, Jim lived in Sweden for five years while working in Sweden and Denmark as a consultant with three organizations, providing expertise in setting up Minnesota Model style treatment programs focused on target populations of youth, individuals with criminal histories and mothers with children.
He spent most of his first 20 years in the field working in addiction services at St. Mary's Hospital in Minneapolis, which eventually became part of the Fairview Hospital system. While there, Jim worked as a counselor before becoming manager of outpatient services and director of adolescent services. He has a bachelor's degree in Psychology from Metropolitan State University and a master's degree in Health and Human Services Administration from St. Mary's University.
Steinhagen has provided several interviews on treating addiction in youth and the optimism of regaining hope for lifelong recovery.

12/10/14, KMIR-TV in Palm Desert, CA, speaks to Jim Steinhagen about the documentary, "Anonymous People".

---