Finding Our Way Together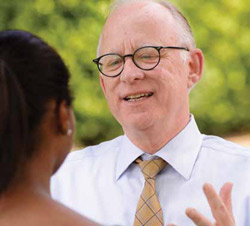 Welcome to the second issue of Together magazine, a place where we chronicle and celebrate the collective wisdom and strength of recovery.
As you—our alumni, donors, friends and colleagues—know well, we don't stand much of a chance against addiction if we go it alone. But together? That's how we find our way. By telling our stories, sharing what works, pushing for answers and reaching out in support and understanding, we bring each other closer to the hope and healing of recovery.
In this issue of Together, we're pleased to introduce you to friends and fellow travelers. You will meet Will S., a songwriter/performer turned global "road warrior" for prevention (page 6). You will follow Mary S., who discovered the power of trust and acceptance in living her truth at age 50 (page 12). And you will journey with Kim K. as she—in her words—turned her "mess" into her "message" (page 22). Alums Michelle C., Ermanno D.F.O. and Maggie O. offer words of recovery insight and inspiration, too (page 20).
We're also proud to bring you news from across the Hazelden Betty Ford Foundation, including updates on our school-based prevention initiatives, expanded outpatient treatment capabilities, and Dream On gala festivities.
Most of all, thank you for reading, caring, supporting and sharing—for being a part of the Hazelden Betty Ford Foundation family. Together celebrates you.
Mark G. Mishek
President & CEO, Hazelden Betty Ford Foundation
---
Direct your inquiries to info@hazelden.org or call 1-800-257-7810. All material copyright by Hazelden Betty Ford Foundation.