Our shared vision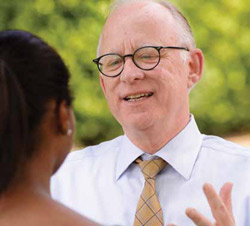 Welcome to the first issue of Together, a publication of the newly merged Hazelden Betty Ford Foundation.
The title Together is a one-word version of our Foundation's bold and ambitious vision statement: Together, we will overcome addiction. It's a word that carries profound meaning for us, on several levels:
Literally, in the uniting of two of the world's most-respected nonprofit addiction treatment organizations
Collectively, in working with other clinicians, researchers, educators and advocates to most effectively address a pervasive and devastating disease
Symbolically, in recognition of how recovery is sustained, through the mutual support of one addict helping another
Our stories, your stories
In this first issue of Together, we share the hope and strength of recovery through a variety of perspectives and voices--from a child's-eye view of how a family heals from addiction to a baby boomer's take on experiencing treatment later in life. You will also hear from alumni of our graduate school, who discuss the science of addiction treatment, and you will learn about the latest apps to inspire and support lasting recovery.
Whenever, however, wherever we can help one more person find freedom from addiction, that's where we'll be and what we'll be doing at the Hazelden Betty Ford Foundation. We look forward to sharing our work and discoveries with you along
the way--and celebrating your stories of courage and redemption, too--as we bring healing and hope to our hurting world, Together.

Mark Mishek
President & CEO, Hazelden Betty Ford Foundation
---
Direct your inquiries to info@hazelden.org or call 1-800-257-7810. All material copyright by Hazelden Betty Ford Foundation.