Thursday, July 30, 2015
You are reading from the book Today's Gift
The hopeful man sees success where others see failure, sunshine where others see shadows and storm.
—O. S. Marden

When wise men say, "Hope springs eternal," they are reminding us that no matter how great are the obstacles, the hope of winning out in the long run still exists. Hope is our friend when all else has failed. When we have strength of character and an energetic mind, hope always flourishes.

We discover that, at the very brink of despair, we will find courage to keep trying as long as there is hope for success. After all, what have we got to lose? Without hope, we have no chance, anyway. Our chance for glory comes when we keep trying even though all seems lost. Our hearts remain strong and brave when hope reminds us that challenges last until a game is over.

What light of hope can I keep burning within me today?
From Today's Gift: Daily Meditations for Families ©1985, 1991 by Hazelden Foundation. All rights reserved. Printed in the United States of America. No portion of this publication may be reproduced in any manner without the written permission of the publisher.

Today's Gift is available for purchase in our online bookstore.

Make Today's Gift my default Thought for the Day Category.
THOUGHT FOR THE DAY READINGS ARE MOVING!
Check them out on our new website at
www.hazeldenbettyford.org
And then bookmark the site so you won't miss a day!
Recovery Support App
We have an app for that — Our daily meditation books are available as apps for your smart phone. Learn more.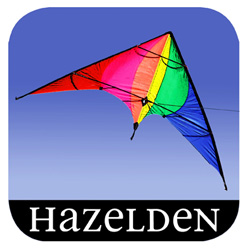 Inspirations from Hazelden is a free collection of daily messages to inspire you on your journey of recovery. Get it now.
Get recovery support anywhere, anytime with the Mobile MORE Field Guide to Life iPhone app.
Daily inspiration • Sober Challenges • Progress Tracker • Community Support • Meeting Finder • Relapse Prevention