Friday, November 21, 2014
You are reading from the book Touchstones
For the trouble is that we are self-centered, and no effort of the self can remove the self from the centre of its own endeavor.
—William Temple

This quagmire of troubles we men were caught in came, in part, from our best efforts to be self-sufficient. The harder we worked to provide our own cures, to control others in our lives, or to control ourselves, the more we fixed our attention upon ourselves. We could not see that the answers we were using were actually part of the problem, not the solution. Even today we may be partially caught in the folly of this thinking. Whenever we think we see our problems and the answers clearly but don't open our incomplete selves to the wisdom of others, we are in danger of intensifying our self-focus. When we have a pattern of telling our fellow members the completed stories of our pain only when our pain has passed, we are maintaining our self-centered system. We can't lift ourselves out of our self-centeredness. We can only turn it over to our Higher Power and allow ourselves to be released. I am grateful for the healing, which comes when I stop being so self-centered in my efforts.
From Touchstones: A Book of Daily Meditations for Men ©1986, 1991 by Hazelden Foundation. All rights reserved. No portion of this publication may be reproduced in any manner without the written permission of the publisher.

Touchstones is available for purchase in our online bookstore.

Make Touchstones my default Thought for the Day Category.
Register for our free motivational emails
SIGN UP for our Today's Gift email service. They're our daily gift to you.
Hazelden Mobile App Wins White House Award
Recovery Support App
We have an app for that — Our daily meditation books are available as apps for your smart phone. Learn more.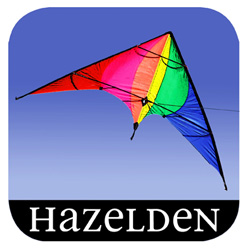 Inspirations from Hazelden is a free collection of daily messages to inspire you on your journey of recovery. Get it now.
Get recovery support anywhere, anytime with the Mobile MORE Field Guide to Life iPhone app.
Daily inspiration • Sober Challenges • Progress Tracker • Community Support • Meeting Finder • Relapse Prevention