Saturday, September 20, 2014
A New Self-Image

As we lose weight, our self-image needs to change along with our body. We may have had a mental image of our self as a thin person, but this image probably did not go beyond the physical. If we continue to think of our self as the same confused, compulsive, childish person we once were, we are not facilitating our emotional and spiritual growth.

The OA program gives us the power to become a new person. If we see ourselves as daily growing saner, more serene, more confident, reality will reflect our inner vision.

Perhaps the most important change in our self-image involves our relationship to our Higher Power. Before, we probably saw ourselves as the center of our world and devoted our energies to protecting and building up our fragile ego. We were all alone in an unfriendly world. Now, we see ourselves as God's creation, subject to His purpose and plan. As we yield to His authority and accept His love, we find strength, security, and peace. By losing ourselves, we find ourselves.

Create in me a new self-image.
From Food for Thought: Daily Meditations for Overeaters by Elisabeth L. ©1980, 1992 by Hazelden Foundation. All rights reserved. No portion of this publication may be reproduced in any manner without the written permission of the publisher.

Food for Thought is available for purchase in our online bookstore.

Make Food for Thought my default Thought for the Day Category.
Register for our free motivational emails
SIGN UP for our Today's Gift email service. They're our daily gift to you.
The Gifts of Imperfection, Rated #1 by The New York Times
Recovery Support App
We have an app for that — Our daily meditation books are available as apps for your smart phone. Learn more.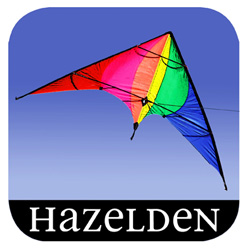 Inspirations from Hazelden is a free collection of daily messages to inspire you on your journey of recovery. Get it now.
Get recovery support anywhere, anytime with the Mobile MORE Field Guide to Life iPhone app.
Daily inspiration • Sober Challenges • Progress Tracker • Community Support • Meeting Finder • Relapse Prevention