Tuesday, March 31, 2015
Sanity

Once, a long time ago, I was able to eat a small amount of extra food between meals and then stop. I enjoyed it very much. Over the years, that small amount became more and more. Somewhere along the line, I crossed the boundary of rational eating and moved into an area of insane bingeing.

Now, when the old urge comes for a small amount of extra food, I need to remember that I am incapable of stopping after a reasonable amount. For me, the first compulsive bite is now the point of no return. Once I take it, I cross immediately into insanity.

How do I remember? I need protection against the arrogant, willful delusion that "This time I will be able to handle it; this time I will get away with cheating just a little bit." How can I protect myself?

Step One says that we are powerless over food. From sad experience, I know this to be a fact. Step Two says that we "came to believe that a power greater than ourselves could restore us to sanity." My protection comes from this Higher Power.

Keep me sane, Lord.
From Food for Thought: Daily Meditations for Overeaters by Elisabeth L. ©1980, 1992 by Hazelden Foundation. All rights reserved. No portion of this publication may be reproduced in any manner without the written permission of the publisher.

Food for Thought is available for purchase in our online bookstore.

Make Food for Thought my default Thought for the Day Category.
THOUGHT FOR THE DAY READINGS ARE MOVING!
Check them out on our new website at
www.hazeldenbettyford.org
And then bookmark the site so you won't miss a day!
Recovery Support App
We have an app for that — Our daily meditation books are available as apps for your smart phone. Learn more.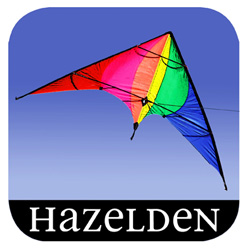 Inspirations from Hazelden is a free collection of daily messages to inspire you on your journey of recovery. Get it now.
Get recovery support anywhere, anytime with the Mobile MORE Field Guide to Life iPhone app.
Daily inspiration • Sober Challenges • Progress Tracker • Community Support • Meeting Finder • Relapse Prevention