Thursday, March 5, 2015
Be Who You Are
When I meet people or get in a new relationship, I start putting all these repressive restrictions on myself. I can't have my feelings. Can't have my wants and needs. Can't have my history. Can't do the things I want, feel the feelings I'm feeling, or say what I need to say. I turn into this repressed, perfectionistic robot, instead of being who I am: Me.
—Anonymous

Sometimes, our instinctive reaction to being in a new situation is: Don't be yourself.

Who else can we be? Who else would you want to be? We don't need to be anyone else.

The greatest gift we can bring to any relationship wherever we go is being who we are.

We may think others won't like us. We may be afraid that if we just relax and be ourselves, the other person will go away or shame us. We may worry about what the other person will think.

But, when we relax and accept ourselves, people often feel much better being around us than when we are rigid and repressed. We're fun to be around.

If others don't appreciate us, do we really want to be around them? Do we need to let the opinions of others control our behavior and us?

Giving ourselves permission to be who we are can have a healing influence on our relationships. The tone relaxes. We relax. The other person relaxes. Then everybody feels a little less shame, because they have learned the truth. Who we are is all we can be, all were meant to be, and it's enough. It's fine.

Our opinion of ourselves is truly all that matters. And we can give ourselves all the approval we want and need.

Today, I will relax and be who I am in my relationships. I will do this not in a demeaning or inappropriate way, but in a way that shows I accept myself and value who I am. Help me, God, let go of my fears about being myself.
From The Language of Letting Go by Melody Beattie ©1990, Hazelden Foundation. All rights reserved. No portion of this publication may be reproduced in any manner without the written permission of the publisher.
The Language of Letting Go is available for purchase in our online bookstore.

Make Language of Letting Go my default Thought for the Day Category.
THOUGHT FOR THE DAY READINGS ARE MOVING!
Check them out on our new website at
www.hazeldenbettyford.org
And then bookmark the site so you won't miss a day!
Recovery Support App
We have an app for that — Our daily meditation books are available as apps for your smart phone. Learn more.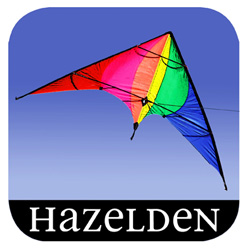 Inspirations from Hazelden is a free collection of daily messages to inspire you on your journey of recovery. Get it now.
Get recovery support anywhere, anytime with the Mobile MORE Field Guide to Life iPhone app.
Daily inspiration • Sober Challenges • Progress Tracker • Community Support • Meeting Finder • Relapse Prevention