Friday, July 31, 2015
Love doesn't just sit there like a stone, it has to be made, like bread; re-made all the time, made new.
—Ursula K. LeGuin

We love to be loved; we love to be held; we love to be caressed. A show of appreciation we love too. And we love to know we've been heard. The friends, the spouses, the children in our lives want the same from us. Like a garden that needs water, sun, weeding to nurture the growth, so does love need attending to. To become whole and healthy women, we need tender nurturing. And we also need to give away what we get. Those we nurture will bless our growth.

Love is dynamic, not static. It is always changing, and it always changes those it enfolds. Since coming into this program where the sharing of oneself, the open expression of love, is profoundly evident, we each have changed. And our presence has changed others. We have learned to accept love and give it. But better yet, we have learned that we deserve love.

I will look around me today at others, and I will remember, my growth and theirs depends on loving and being loved. I will reach out. I can make love new.
From Each Day a New Beginning: Daily Meditations for Women by Karen Casey © 1982, 1991 by Hazelden Foundation. All rights reserved. Published 1982. Second edition 1991. No portion of this publication may be reproduced in any manner without the written permission of the publisher
Each Day a New Beginning is available for purchase in our online bookstore.

Make Each Day a New Beginning my default Thought for the Day Category.
THOUGHT FOR THE DAY READINGS ARE MOVING!
Check them out on our new website at
www.hazeldenbettyford.org
And then bookmark the site so you won't miss a day!
Recovery Support App
We have an app for that — Our daily meditation books are available as apps for your smart phone. Learn more.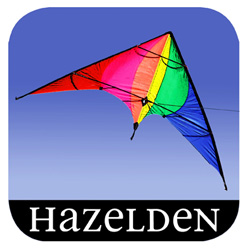 Inspirations from Hazelden is a free collection of daily messages to inspire you on your journey of recovery. Get it now.
Get recovery support anywhere, anytime with the Mobile MORE Field Guide to Life iPhone app.
Daily inspiration • Sober Challenges • Progress Tracker • Community Support • Meeting Finder • Relapse Prevention