Tuesday, March 3, 2015
Most kids hear what you say; some kids do what you say; but all kids do what you do.
—Kathleen Casey Theisen

We are role models for many people: our children, our co-workers, other women in the program. Step Twelve encourages us to set good examples for anyone who might be looking on. Living a principled life takes practice, and progress, not perfection, is hoped for.

Abstinence has offered us a new set of tools for shaping our behavior. No longer must we regret what we did yesterday or last week. We are learning to monitor our actions, but even more importantly, we are defining our values. They, in turn, influence what we say and do.

Thoughtful responses to the situations we encounter require conscious attention to those events. We need reminding, perhaps, that our behavior is continuously telling others who we are, what we value, and how we view the people close to us. All of us, consciously or otherwise, imitate behavior patterns of persons we admire. Unfortunately, we sometimes mimic unfavorable behavior, too.

There are those casting their attention our way. The opportunity to model favorable behavior awaits us.

People will follow my lead. I shall walk softly, humbly and lovingly.
From Each Day a New Beginning: Daily Meditations for Women by Karen Casey © 1982, 1991 by Hazelden Foundation. All rights reserved. Published 1982. Second edition 1991. No portion of this publication may be reproduced in any manner without the written permission of the publisher
Each Day a New Beginning is available for purchase in our online bookstore.

Make Each Day a New Beginning my default Thought for the Day Category.
THOUGHT FOR THE DAY READINGS ARE MOVING!
Check them out on our new website at
www.hazeldenbettyford.org
And then bookmark the site so you won't miss a day!
Recovery Support App
We have an app for that — Our daily meditation books are available as apps for your smart phone. Learn more.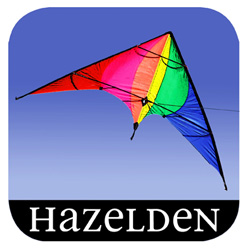 Inspirations from Hazelden is a free collection of daily messages to inspire you on your journey of recovery. Get it now.
Get recovery support anywhere, anytime with the Mobile MORE Field Guide to Life iPhone app.
Daily inspiration • Sober Challenges • Progress Tracker • Community Support • Meeting Finder • Relapse Prevention