Monday, July 28, 2014
The beauty of loving someone is the feeling of "wholeness" that I experience. The need for that individual in my life, the "I'm part of you and you're part of me" feeling that connects two people and makes them necessary to each other.
—Kathleen Andrus

All that is asked of us by our Creator is that we love one another. Where love doesn't flow easily, perhaps we can just decide to not hurt someone. If we each avoided hurting all people, for just one day, lives would be transformed. We'd each see the world with a fresh perspective.

The more we love others, any others, the deeper our love will grow for all others. Loving lifts our hearts and lightens our burdens. Every day's tribulations can become triumphs when we carry love in our hearts. Love fills us up, and the more we share it, the fuller we become.

We are connected--each of us to one another, all of us together. Our contributions to the whole are necessary. Its completion is made perfect by our presence.

As I pass a friend today, I will be grateful for her contribution to my wholeness, too.
From Each Day a New Beginning: Daily Meditations for Women by Karen Casey © 1982, 1991 by Hazelden Foundation. All rights reserved. Published 1982. Second edition 1991. No portion of this publication may be reproduced in any manner without the written permission of the publisher
Each Day a New Beginning is available for purchase in our online bookstore.

Make Each Day a New Beginning my default Thought for the Day Category.
Register for our free motivational emails
SIGN UP for our Today's Gift email service. They're our daily gift to you.
The Gifts of Imperfection, Rated #1 by The New York Times
Recovery Support App
We have an app for that — Our daily meditation books are available as apps for your smart phone. Learn more.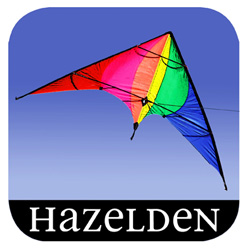 Inspirations from Hazelden is a free collection of daily messages to inspire you on your journey of recovery. Get it now.
Get recovery support anywhere, anytime with the Mobile MORE Field Guide to Life iPhone app.
Daily inspiration • Sober Challenges • Progress Tracker • Community Support • Meeting Finder • Relapse Prevention