Thursday, April 17, 2014
I can stand what I know. It's what I don't know that frightens me.
—Frances Newton

Fear of the unknown, often referred to as free-floating anxiety, catches up to us on occasion. But it needn't. The program offers us strength whenever we need it, and faith diminishes all fear. It is said that fear cannot exist where there is faith.

We have many days when we feel strong, in touch with our higher power, able to meet all situations. On those days, we are seldom conscious of how our faith is guiding us. But the hours of fear that we experience on other days make us aware of faith's absence. There is a simple solution: We can reach out to a friend. We can be attentive to her needs, and the connection to God will be made.

Shifting our focus, from self-centered fears to another person's needs, offers us a perspective on our own life. It also offers us a chance to let God work through us. Our own faith is strengthened each time we offer our services to God and to a friend in need. What may frighten us seems less important the closer we are to the people in our lives.

When I touch someone else, God touches me in return.
From Each Day a New Beginning: Daily Meditations for Women by Karen Casey © 1982, 1991 by Hazelden Foundation. All rights reserved. Published 1982. Second edition 1991. No portion of this publication may be reproduced in any manner without the written permission of the publisher
Each Day a New Beginning is available for purchase in our online bookstore.

Make Each Day a New Beginning my default Thought for the Day Category.
Register for our free motivational emails
SIGN UP for our Today's Gift email service. They're our daily gift to you.
The Gifts of Imperfection, Rated #1 by The New York Times
Recovery Support App
We have an app for that — Our daily meditation books are available as apps for your smart phone. Learn more.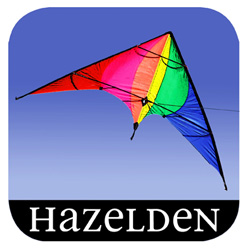 Inspirations from Hazelden is a free collection of daily messages to inspire you on your journey of recovery. Get it now.
Get recovery support anywhere, anytime with the Mobile MORE Field Guide to Life iPhone app.
Daily inspiration • Sober Challenges • Progress Tracker • Community Support • Meeting Finder • Relapse Prevention