Wednesday, April 1, 2015
To be wildly enthusiastic, or deadly serious--both are wrong. Both pass. One must keep ever present a sense of humor.
—Katherine Mansfield

How familiar wild enthusiasm and deadly seriousness are to most of us. We experience life within the extremes. The thrill of wild enthusiasm we try to trap, to control. We are exhilarated and feel good. Our serious side traps us, controls us, lowers a pall on all our activities. Both expressions keep us stuck. Neither expression allows the freedom of spontaneity so necessary to a full, healthy life.

Through our addiction - the liquor, the upper, the person, the food--we were searching for a feeling we didn't feel. We were searching for an unnatural state of happiness, even perhaps wild enthusiasm, because we had so little of any enthusiasm for life. Our search failed. Again and again we'd "catch it," only to have it elude us.

We may not have given up the search. But we will come to accept both states of mind as temporary and search instead for the middle ground. A sense of humor will make all of life's loads easier to bear. A sense of humor will offer us the balance that has been missing for so many years.

Today will offer me a chance to be wildly enthusiastic and a chance to be deadly serious. I'll try to focus on the middle ground and cultivate my sense of humor.
From Each Day a New Beginning: Daily Meditations for Women by Karen Casey © 1982, 1991 by Hazelden Foundation. All rights reserved. Published 1982. Second edition 1991. No portion of this publication may be reproduced in any manner without the written permission of the publisher
Each Day a New Beginning is available for purchase in our online bookstore.

Make Each Day a New Beginning my default Thought for the Day Category.
THOUGHT FOR THE DAY READINGS ARE MOVING!
Check them out on our new website at
www.hazeldenbettyford.org
And then bookmark the site so you won't miss a day!
Recovery Support App
We have an app for that — Our daily meditation books are available as apps for your smart phone. Learn more.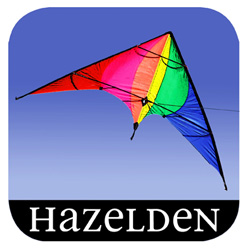 Inspirations from Hazelden is a free collection of daily messages to inspire you on your journey of recovery. Get it now.
Get recovery support anywhere, anytime with the Mobile MORE Field Guide to Life iPhone app.
Daily inspiration • Sober Challenges • Progress Tracker • Community Support • Meeting Finder • Relapse Prevention