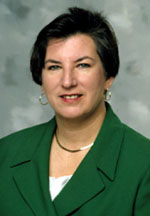 Dr. Kate Kominars is a consultant and licensed psychologist. For the past 15 years, she has worked with corporations, organizations, groups and individuals helping them to achieve their objectives through developing their human potential. Her expertise lies in conflict resolution, communication skills development, strategic planning, team analysis and development, and training.

In addition to her clinical and consultation skills, Dr. Kominars is particularly well known for her ability to conduct substantive, exciting and challenging training programs. As an educator she specializes in effective brief interventions, understanding the limits, benefits and applications of psychological testing, and assessment interviewing. She is able to utilize her real world experiences and her academic and clinical training to create challenging learning opportunities for individuals and groups. She is a requested speaker in many areas, including issues of performance enhancement, motivation, goal setting, team building, and capitalizing on diversity

As a consultant, she brings unique insights and creative solutions to her clients' problems. With superlative rapport building and communication skills, she develops productive and collaborative relationships. With warmth, energy and enthusiasm, she creates environments in which individuals are able to voice concerns, clarify needs, identify barriers to progress and develop strategies for problem resolution.

Education and Professional Affiliations

Bachelors Degree, Liberal Arts, St. John's College, Annapolis, MD

Masters Degree, Counselor Education, Temple University, Philadelphia, PA

Doctorate, Counseling Psychology, Temple University, Philadelphia, Member - The American Psychological Association

The American Counseling Association

The Association for Specialists in Group Work

Licensure -Psychologist - Florida

Certification -Addictions Professional

Sample List of Training Topics

Conflict Resolution

Effective Communication

Group Dynamics

Motivation

Team Development

Time Management

Stress Management

Using the Myers-Briggs Type Indicator



Books:

Accepting Ourselves and Others
A Journey into Recovery from Addictive and Compulsive Behaviors for Gays, Lesbians and Bisexuals
Softcover, 392 pp.